Restore system files and settings from a Windows 10 or 8.1 Restore Point

if a bad program has been installed, or has negative influences on the Windows 8, or when the computer is slow and may no longer responding.





(Image-1) Run : The command to open the
System protection in Windows 8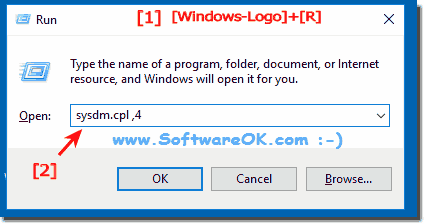 To start a System Restore automatic or manually created restore point in Windows 8, press the key combination [Windows logo] + [R] , then simply enter the command
sysdm.cpl ,4
(... See the Image-1)

In the Advanced System Properties of Windows 8 (... see Image-2) , click "System Restore"

This starts the "System Restore Wizard" in Windows 8 .
( ... See Image-3 ) Here just click on "Next" to start the Windows-8 System Restore .

In the selection ( ... See image 4 ) choose a Windows-8 Restore Point and click again to continue!

Thereafter, only confirmed the Windows-8 Restore Point
(... See Image-5)! Confirm the Windows-8 Restore Point


Restore system files and settings
System Restore can help fix problems that might be making your computer run slowly or stop responding.

System Restore does not affect any of your documents, pictures, or other personal data. Recently installed programs and drivers might be uninstalled.





Confirm your restore point

Your computer will be restored to the state it was in before the event in the description field below.

If you have changed your Windows password recently, we recommend that you create a password reset disk.

System Restore needs to restart your computer to apply these changes. Before you proceed, save any open files and close all programs.


Once started, System Restore cannot be interrupted. Do you want to continue?


System Restore cannot be undone until after it has completed. If System Restore is being run in safe mode or from the System Recovery Options menu, it cannot be undone.




System Restore completed successfully. The system has been restored to 7/14/2012 4:46:24 PM. Your documents have not been affected.



FAQ 29: Updated on: 20 July 2019 07:32