Create a Windows 8 / 8.1 desktop shortcut for fast shut-down, turn-off, logout or restart and / or pin to Windows Start-Menu!


It is possible and easy but if you do not feel like creating them yourself, you can download my prepared shortcuts! 
1.) But if you want to create the Windows 8 Desktop shortcut yourself! 
Press the Windows-8 key combination 

[Win-Logo]+[D]

to see the Windows-8 desktop.

Click the right mouse button on the Windows-8 desktop and select

"New"

, "Shortcut"

. Then in the called input box simply enter the text:

%windir%\System32\shutdown.exe /s /t 0

You can optionally also use the argument

"/f"

, this will force the closure of application executed without warning.

Then just follow the link name, this would be a

"shutdown"

or

"off"

attached as a link name;).
You can also create more desktop shortcuts by using the command "shutdown"
Shortcut on the desktop for quick logout on Windows computer:
%windir%\System32\shutdown.exe /l
Shortcut on the desktop for a quick restart (reboot) of the Windows PC:
%windir%\System32\shutdown.exe /r /t 0
►► 
... Download Restart Shutdown Log-Out Windows-7, Windows 8.1 and Windows-8


2.) Pin the Desktop Shortcuts (Restart Shutdown Logout) to Start Menu.  
Please do right click on the desktop shortcut and select
"Pin to Star"
(
... See Image-2 Arrow-1
).
Press the [Win-Logo] key to see the result (
... See Image-3 Arrow-1
).


3.) How do desktop shortcuts work!
A Windows shortcut is a user-defined or system-defined shortcut to an item that is available on your computer or on a network, which can be a program, a file, a folder, a drive, a Web page, a printer, or another Be a computer. 
You can insert links in different areas, eg on the desktop, in the Start menu, or in certain folders. 
For the link a symbol can be defined, working directory, program arguments / parameters! 
(
... see Image-4
)
But  it is a full-value file that contains this information, the file extension is .lnk., which also allows Windows to recognize it and read the information from it.   
See also: 
... program links in Windows 8.1 / 8
!
(Image-4) how do works a Windows desktop shortcut!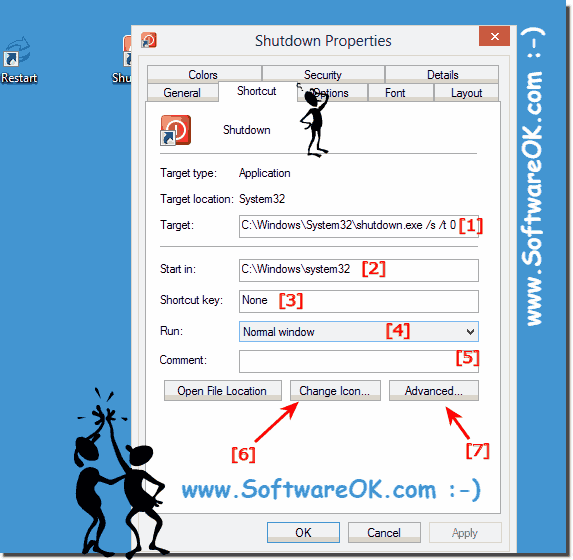 FAQ 24: Updated on: 1 October 2020 17:40