It´s easy to see, in Win 8 or 8.1 when running on the x32 (x86) or x64 installed version of Windows!
(Image-1) Run: control.exe
name Microsoft.System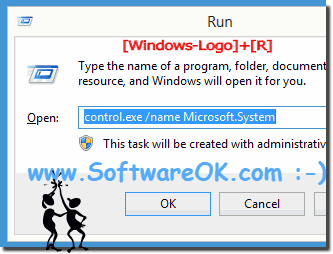 Please start the ControlPanel/System in Windows-8 via: press the key combination

[Win-Logo]+[R], then simply type the command control.exe /name Microsoft.System (... see IMAGE-1) and confirm that with [ENTER] or by pressing the button [OK]


Now you can see in the ControlPanel/System is the Windows-8 x32(x86) x32/x86 (32 bit) or x64 (32-bit) Edition!
(... see Image-2)

PS: x32 is x86 32 bit / x64 is 64 bit
See also :
... System requirements for Windows 8!
... How big should be the Windows 8 disk partition!
HOT-TIP: ... an alternative to the standard Windows Run-Dialog.


The left pane provide access to additional system settings

Windows-8 Device Manager.
Remote settings on Windows-8.
System protection for Windows-8 .
Advanced system settings in Windows-8 .



You can find a summary view of basic details about your computer, including:
Windows edition.
Lists info about the version of Windows running on your computer.
System.
Displays your computer's Windows Experience Index base score, which is a number that describes the overall capability of your computer. Your computer's processor type, installed memory (RAM), system type, and pen and touch capabilities are also listed.
Computer name, domain, and workgroup settings.
Displays your computer's name and domain info. You can change this info and add user accounts by tapping or clicking Change settings. You might be asked for an admin password or to confirm your choice.
Windows activation.
Shows whether your copy of Windows is genuine, which helps prevent software piracy.

The links in the left pane provide access to additional system settings. You need to be signed in, as an administrator, to change these settings.
Device Manager.
Change settings and update drivers.
Remote settings.
Change settings for Remote Desktop, which you can use to connect to a remote computer, and Remote Assistance, which you can use to invite someone to connect to your computer to help troubleshoot a problem.
System protection.
Manage settings that automatically create the restore point that System Restore uses. You can turn system protection on or off for the drives on your computer, and you can create restore points manually.
Advanced system settings.
Access advanced performance, user profile, and system startup settings, including Data Execution Prevention, which monitors programs and reports possible security attacks. You can also change your computer's virtual memory settings.

FAQ 20: Updated on: 28 September 2020 17:27