The Windows 8.1 Control-Panel is shown by default in "categories" (Image-2 ) and also in the new Windows 10!



To switch to the well-known to old Windows XP Classic View,

simply change the type of view in Windows-8 Control Panel


From "categories" to "Small icons" or "Large icons"

(Image-1)  


Then you can see in the MS Windows OS Control Panel
all setting options ( Image-3 ) as it is at the old windows!






Hot-Tip: ►►  ... file-manager Quad-Explorer  and ►► Classic Desktop clock for all Windows OS





(Image-2) Windows-8 Control Panel in Categories!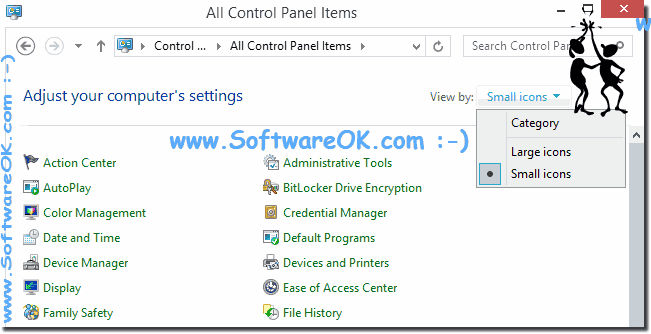 Control Panel

All Control Panel Items
Action Center
Administrative Tools
AutoPlay
BitLocker Drive Encryption
Credential Manager
Default Programs
Devices and Printers
Display
Ease of Access Center
File History
Fonts
HomeGroup
Language
Location Settings
Network and Sharing Center
Notification Area Icons
Parental Controls
Performance Information and Tools
Personalization
Power Options
Programs and Features
Recovery
RemoteApp and Desktop Connections
Speech Recognition
Storage Spaces
Sync Center
System
Troubleshooting
User Accounts
Windows 7 File Recovery
Windows Firewall
Windows Update

Appearance and Personalization
Clock, Language, and Region
Ease of Access
Hardware and Sound
Network and Internet
Programs
System and Security
User Accounts and Family Safety
FAQ 16: Updated on: 1 October 2020 17:29