Connecting the AirPods to a Windows 11 PC is easy and possible at any time as long as the AirPods are within range and you have Bluetooth on the PC!
1.) Open the settings to connect the AirPods to the Windows 11 PC!

1. Start the Windows 11 settings as always  (Windows + i key)

2. Go to Bluetooth & Devices

3. Scroll to the right and activate Bluetooth 

4. And just click on the  "Add device" button

5 Then select Bluetooth (mice, keyboards, pens, audio devices, ....)

(... see Image-1 Point 1  to 5)

and continue with: ►►►  Pairing with AirPods! 



(Image-1) How do I connect the AirPods to a Windows 11 PC!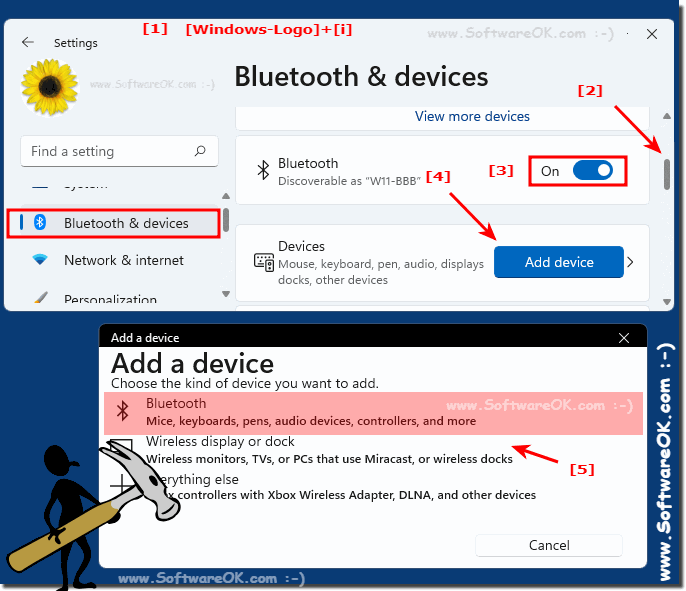 2.) Pair Windows 11 with AirPods or connect device!

Windows 11 starts to search for all Bluetooth devices, you only have to activate pairing mode on your AirPods, as already mentioned. The AirPods have a pairing button on the case and when you open the lid you will see the LED glow white when you hold down the pairing button on the back of the case and when the light on the front of the case starts to flash white, you can let go of the button.

1. After a few seconds (1-3), Windows 11 will find your AirPods.

2. Select your AirPods from the list of devices found.

3. After the selection, Windows starts pairing the two devices.

Once you're done, your AirPods will connect to your Windows 11 PC and you're ready to use them!

(... see Image-2 Point 1 to 6)



(Image-2) Connect the AirPods to the Windows 11 PC!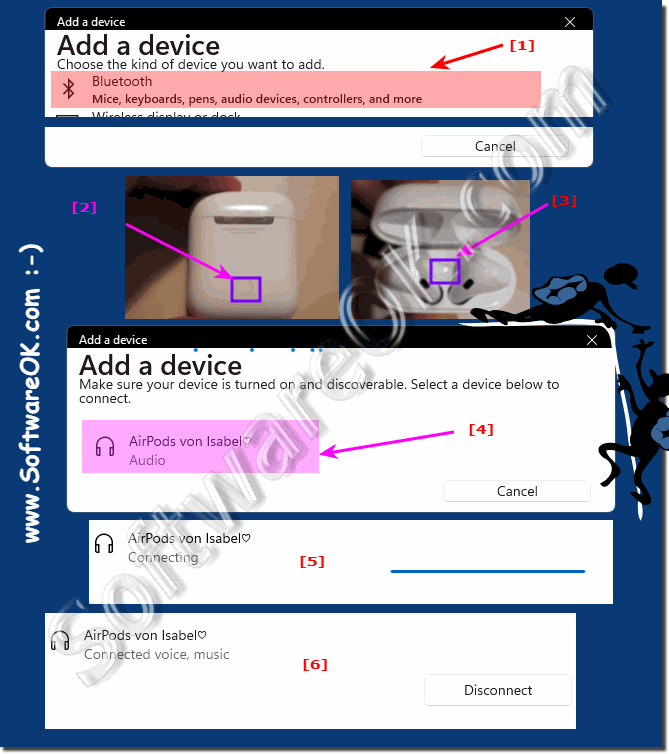 3.) Why does the pairing with Apple AirPods work?
Although Apple's AirPods were designed for the Apple products, you can also connect them to your Windows 11 PC. All you need to have is bluetooth on your Windows PC and the bluetooth has to be turned on and enable pairing mode on your AirPods!

( ... see Image-3 Point 1 to 3 ) 




(Image-3) The AirPods couple via gross and white light or LED!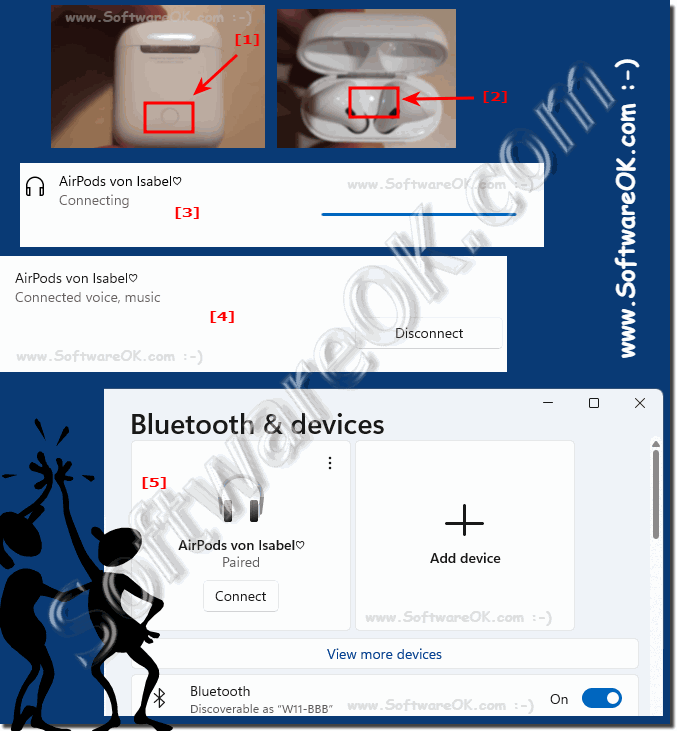 Pairing Apple AirPods works thanks to the integration of various technologies and design decisions!
AirPods use Bluetooth to connect wirelessly to your device. Bluetooth is a widely used wireless communication technology that provides a stable and reliable connection.
AirPods are equipped with Apple's own chips, depending on the generation. These chips are specifically designed to optimize communication between the AirPods and Apple devices. They also enable features such as automatically turning on when removed from the charging case and quickly switching between different devices connected to your Apple ID account.
Pairing AirPods with an Apple device usually happens automatically when you open the charging case and the AirPods are near your paired device. This simplifies the process and makes it user-friendly.
Ease of use: AirPods have touch-sensitive surfaces that allow you to tap to control various functions, such as playing and pausing music or activating Siri. This makes it easier to use and ensures an intuitive user experience.
Continuous Improvements: Apple continually works to improve AirPods technology through software updates to further optimize performance and usability.
Overall, these factors can help pairing AirPods with Apple devices work smoothly and provide a pleasant user experience.



FAQ 179: Updated on: 26 September 2023 20:48