Change or add a new language in Windows 11 at any time and / or use the classic options for regional settings!
1.) Change the language in Windows 11 and add new ones!
PS: If Windows 11 is in the wrong language , follow the symbols in the picture !

1. Start the Windows 11 settings as usual ( Windows + i )

2. Via ► Time and Language  ► scroll on the right side to Language and Region

3. And then easily change  the language in the Windows display language area 

4. If your Language is not offered, simply install it, button "Add a language"

(... see Image-1 Point 1  to 6)

Continue with ►  Select a language to be installed!



(Image-1) Change or add new language in Windows 11!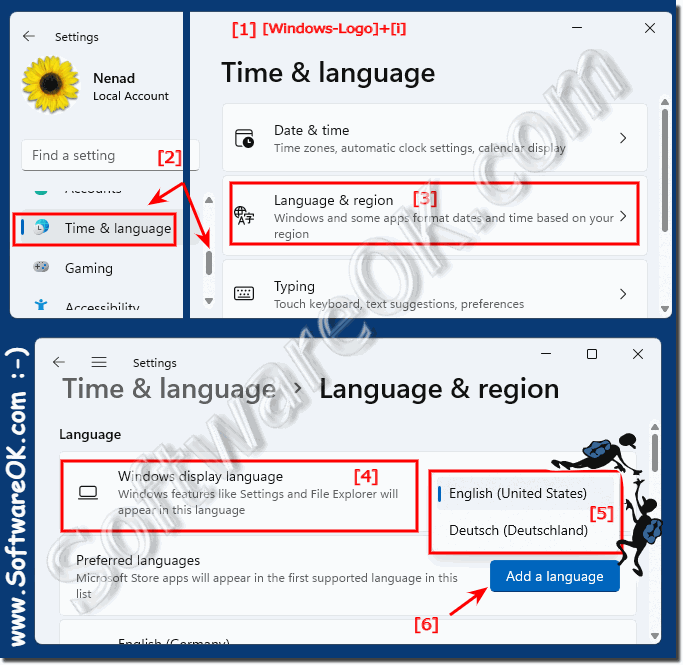 2.) Select a language to be installed!

1. Here just like I said "Englisch"

2. As an example King (UK English) because I already have English (US) installed

3. Button "Next" and simply select language, handwriting, ... etc. and confirm (wait 1- 2 minutes)

(... see Image-2)



PS:

When adding a language, an input field appears, here you can enter

"English"

or

"King"

 (UK) and confirm the installation of the language. The installation of the new language takes 1 to 2 minutes, then change the language (point 5) and

log off and log on again under Windows 11

!





(Image-2) Select a language to be installed on Windows 11!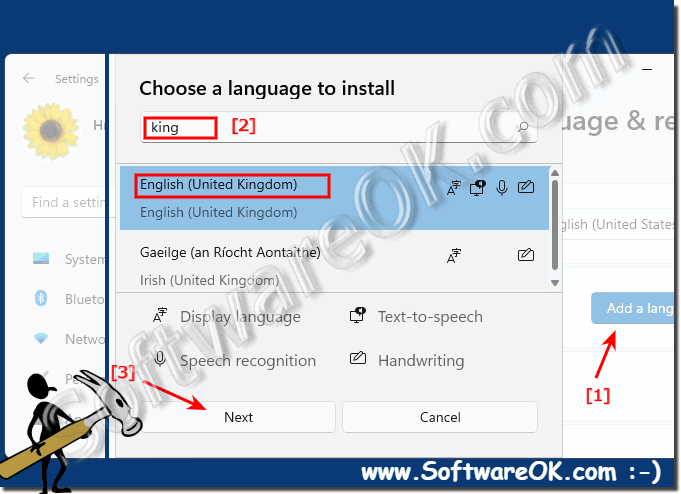 3.) Adjusting the regional settings in Windows 11!
Everyone knows the ► difference between region and language, all the easier it is to make the right settings here!

Open the window "Region - Customize the formats" in Windows 11. For example via  Windows 11 Run dialog  and the command:  intl.cpl 

(... see Image-3 Point 1 to 7)

Or find the region settings in control panel (... see Image-4 Point 1 to 4)



(Image-3) Change region, formats, date, currency, ... in Windows 11!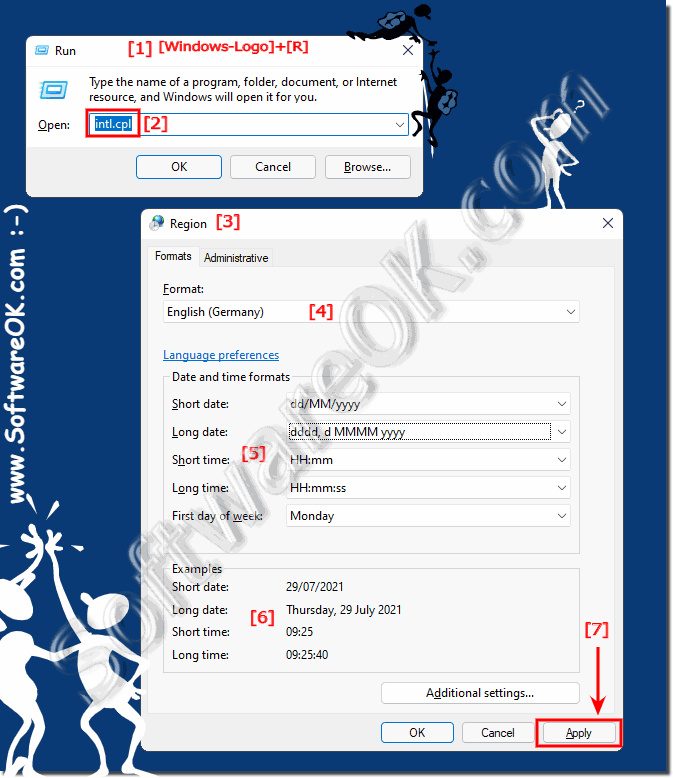 4.) What should I pay attention to when using other languages?
You should be able to understand this when changing the language, after logging in, all objects and settings appear in the corresponding language, so if you want to look at Windows 11 in Chinese or Japanese, problems can lead back to German or English to come!

Possibly: ►   quickly create and test additional Windows 11 users!   

Because every user has his own configuration, which is also very practical under MS Windows NT OS!

Changing the main language of the Windows 11 operating system is important when the computer is used by users who prefer or speak other languages. You can download and install additional language packs for Windows 11 to display menus, dialog boxes, and other interface elements in the language you want. With the Windows 7, 8, 10 license you can install any Windows 11!



(Image-4) Region settings in Control Panel on Win 11!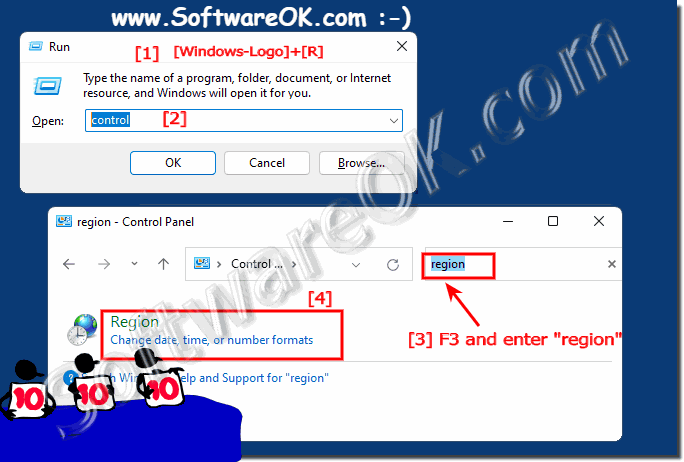 FAQ 110: Updated on: 26 August 2023 07:08