You can also in Windows 10/11 change drive letters,  for DVD and USB drives or add and remove Paths, and also for external hard drives and media!


See also: ► Startup folder on Windows 11/10 ► Auto-login without a password ► Paint on Windows 11/10

1.) Changing the drive letter of the DVD drive on Windows 10/11!
You can quite easily change the path or the drive letter of the DVD / CD drive via the Disk Management.


(... see Image-1 Arrow 1 to 6) this is the Solution via

diskmgmt.msc

command




(Image-1) change the drive letter in Windows 10!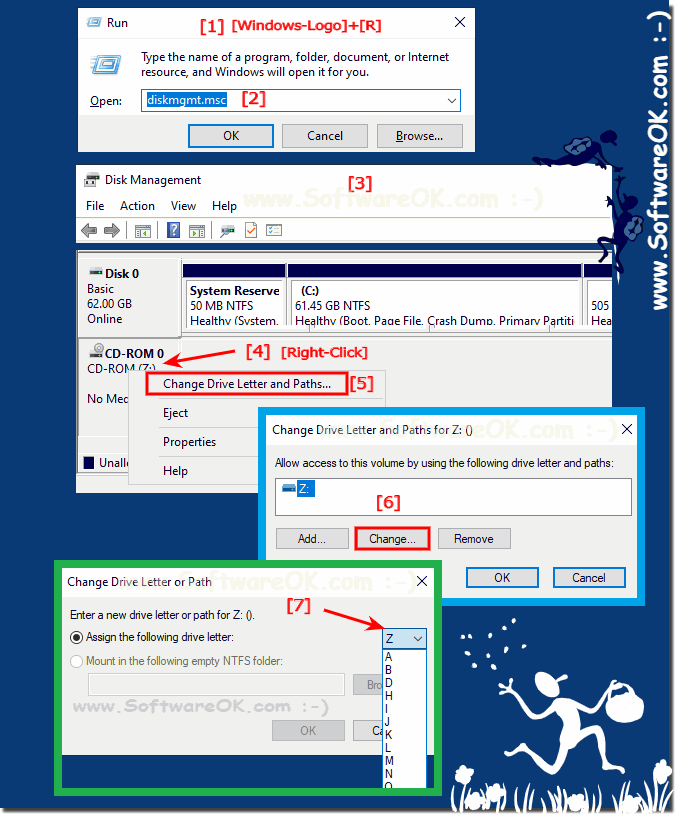 2.) Changing the drive letter of the Windows 10 USB stick!
Essentially the same solution, only the right-click on the appropriate partition in Windows 10 Disk Management. External media can have multiple partitions, and multiple drive letters or paths. (... see Image-2)




(Image-2) Change the HDD partition letter / path on Windows 10!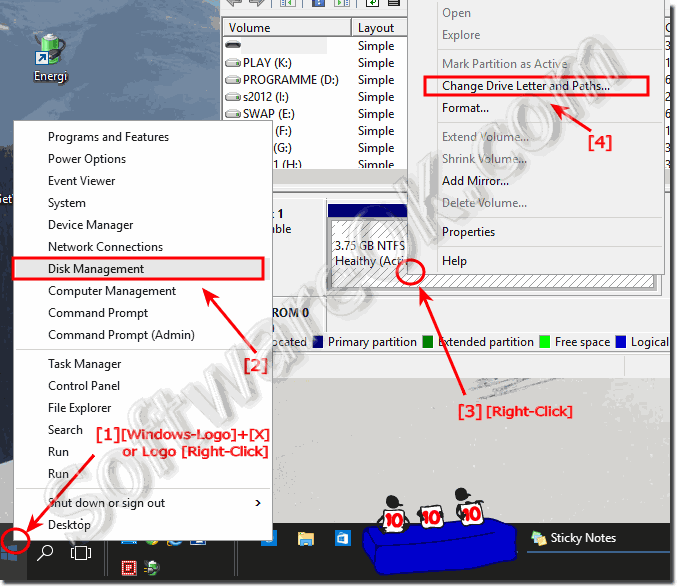 3.) Problems when changing the drive letter under Windows 11/10!

Maybe you have a paging file on this disk and Windows does not allows you to change the letter. You can disable the paging file, reboot, change the letter, and re-enable paging. Or you can move it to another disk, restart it, and try to change the letter again.

Information about the paging file: ► Customizing the pagefile.sys in Windows 10 (paging file)!





There are various reasons why problems may occur when changing the drive letter in Windows. Here are some of the most common causes:

- The drive is already in use.
If a drive is already in use by another application or program, you cannot easily change the drive letter. In this case, you must close the application or program before you can change the drive letter.

- The drive is a system drive.
System drives are necessary for the operating system to function properly. It is not easy to change the drive letter on these drives.

►►  Not enough space on the C drive under Windows!

- The drive is external storage.
External storage devices, such as Some devices, such as USB sticks or external hard drives, cannot easily change the drive letter. In this case, you need to change the device settings in Device Manager.

►►  Difference between drives and hard disk?

- Faulty hardware:
Sometimes problems with the hard drive itself can prevent the letter from being changed. Make sure the hardware is working properly.

- Administrator rights:
To change the drive letter you need administrator rights. Make sure you are logged in as an administrator.

►►  Can I restore the administrator on Windows?

- Avoid conflicts:
Make sure that the letter you want is not already in use by another drive. Windows does not recognize duplicate drive letters.


If you're having trouble changing the drive letter in Windows, the first thing you should do is check if the drive is in use. If so, close the application or program that is using the drive. If the drive is a system drive or an external storage device, you cannot change the drive letter.

►►  Change drive letter using the command prompt!




If you have checked all these points and the problem still persists, you can try changing the drive letter using another tool. There are various free and paid tools that can help you with this. Changing the drive letter on Windows can sometimes be problematic, but there are several ways to do it. Here are some common problems and solutions:






FAQ 92: Updated on: 21 October 2023 05:52