Of course, you can change also under MS Windows 10 or 11 the path for "My documents"  and it's pretty easy to do, this solution is also for Windows 8.1 and 7!


Change win 10 // 11 product key

 ►

 change administrator in windows 11/10 ► change the windows 11/10 drive letter

1.) Move Personal, Download, Files, ... folders in Windows 10 or 11!
Start the MS Explorer for this and please type in the Address Bar

shell:profile

 and confirm this press ENTER (see Figure 1).

Then select "My documents" in the Explorer. Click with the right mouse button on it and choose cut. Then insert into the desired folder with "CTRL + V"!  

Do not a copy action this has to  be a move folder action!

 

Move the folder wherever you want. Or do right Mouse Drag&Drop. (... see Image-1 Arrow 1 to 4)

Windows 10 will auto change all registry entries!

Here I have created a folder with the name "D:\User1" created on Volume "D:\"  and moved the folder "My documents", "My music", "My videos", "My Pictures", ... . A practical matter, if you must reinstall Windows 10, you can repeat the process and all data are back.

See the result: (... see Image-2)



(Image-1) Move My-Documents on Windows 10 to another volume!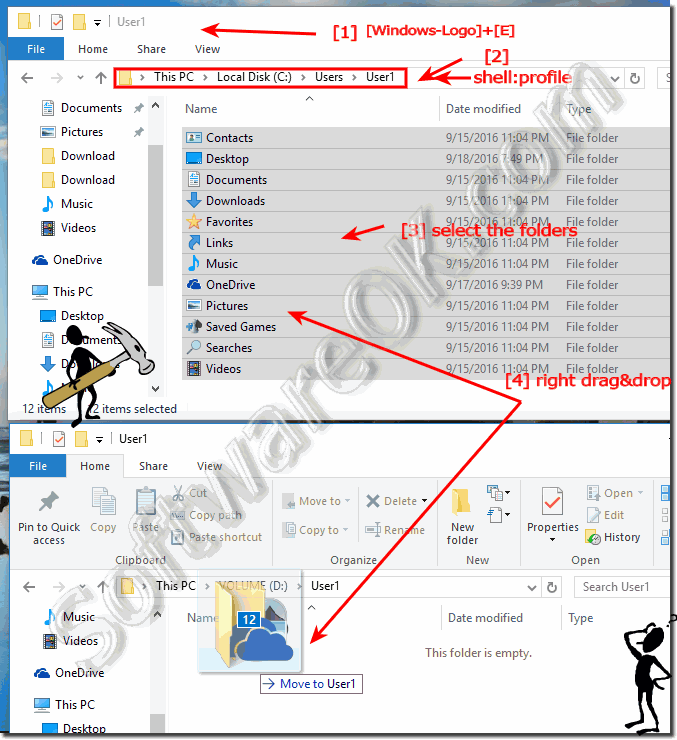 You can move folders from the profile folder of your account to other drives. For example, the Desktop or My Pictures folder requires a lot of disk space, and you can move it to another disk to increase the free space on the system disk. Here in the FAQ it explains how you can move the location of the default profile folder.

By default, the profile folders are stored on the local disk C:\ in the Users folder. They contain the following folders: Contacts; Desktop, Documents, Downloads, Favorites, Music, OneDrive, Pictures, Saved Games, Search, Video, etc. It happens that some users confuse the folders and save them all in a folder and then do not know how to find files individually in the default directory!



(Image-2) My-Documents on new Volume!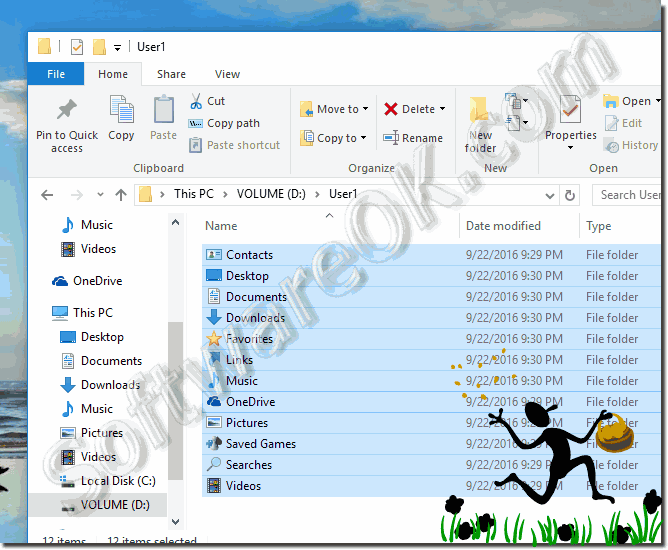 2.) The Registry Key Entries for Personal folders on Windows 10!


The Registry Key Entries: 

HKEY_CURRENT_USER\
  Software\
    Microsoft\
      Windows\
        CurrentVersion\
          Explorer\
            User Shell Folders

The following values are responsible for the individual folders in the registry:

AppData
REG_EXPAND_SZ %USERPROFILE%\Application Data
Desktop
REG_EXPAND_SZ %USERPROFILE%\Desktop
Personal
REG_EXPAND_SZ %USERPROFILE%\My Documents
My Pictures
REG_EXPAND_SZ %USERPROFILE%\My Documents\My Pictures
Start Menu
REG_EXPAND_SZ %USERPROFILE%\Start Menu
Favorites
REG_EXPAND_SZ %USERPROFILE%\Favorites
History
REG_EXPAND_SZ %USERPROFILE%\Lokale Einstellungen\Verlauf
My Music
REG_EXPAND_SZ %USERPROFILE%\My Documents\My Music
My Video
REG_EXPAND_SZ %USERPROFILE%\My Documents\My Video




(Image-3) change documents folder windows 11 / 10 on regedit!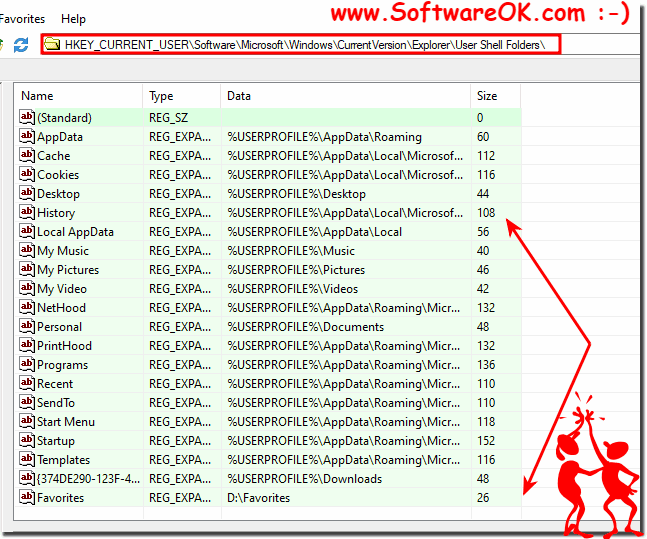 See also:
► Can I change drive name in windows 10, how to?
► Change Windows Desktop Icon Size and View ,plus save!

FAQ 156: Updated on: 25 August 2023 12:38