If some of the explorer windows have 1 or more tabs, easy remove them ergo close the tabs and define a default folder when open new Tab ! 


Content / Solution / Tip:



See also: ► see the full name of the folder in the tab! ►  The tabs are not always displayed in Explorer view!


1.) Close the tabs In Explorer View of Q-Dir!
Please use CTRL+W Keyboard Shortcut in Q-Dir or easy use the left mouse double click, this also closed the tab!
2.) Change the default folder  on Windows 11, 10, ... etc.!
main menu ► Extras ► tabs ► use current folder (... see Image-1) 

Info: If the folder no longer exists, is the default Folder on Windows 10 This PC and on Windows 7 My Computer! 

Because in Windows 10 the My Computer icon is called This PC! 



(Image-1) Explorer window have 1 or more tabs and default folder tab?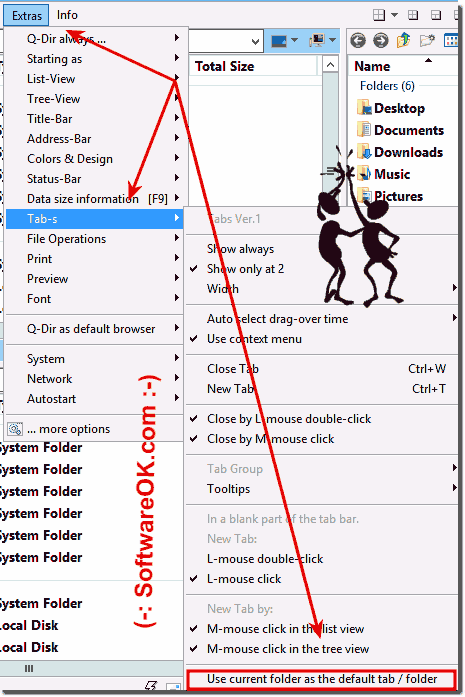 Info:

Sets, it is said, are said to be "easier and faster" to be "creative and productive". As with a browser, it is possible to open a new tab by clicking on a "+" icon. Afterwards, not only websites are available but also applications. The projects created via Windows 10 sets are synchronized across all Windows 10 computers, where the user logs in with his Microsoft account data.



FAQ 56: Updated on: 13 July 2021 05:52