It is easy to
see whether Office 365 is active or activated

on Windows 11, 10, 8.1 and MS Server!


Content:


1.) Detect / check whether the MS OFFICE 365 is activated!
1. Start any MS Office product

2. go to your login name (top right)

3. Then click on "My Microsoft account"

4. In the MS account on "Services & Subscriptions"

5. In this case  "Marko .... " is the owner with the release 

6. As long as this continues the product is activated, otherwise it appears" that the subscription has expired "

The owner can see exactly when the next debit takes place, as long as this is always extended your MS Office remains activated.

 
 



(Image-1) I can see whether Office 365 is activated on Windows 10!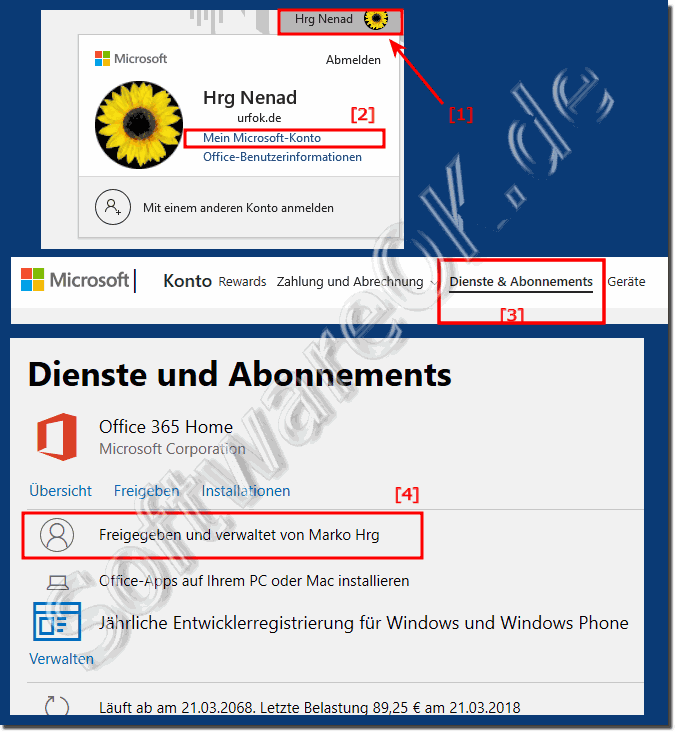 2.) Is my MS active in the background!
1. Start the Windows Task Manager Ctrl + Shift + ESC

2. as usual and you can see that Microsoft Word is active 

3. Press "More Details"

4. "App History" tab and you will recognize that the Office app is also active!

( ... see image-2 points 1 to 4 )




(Image-2) Detect whether Office 365 on Windows is running in the background!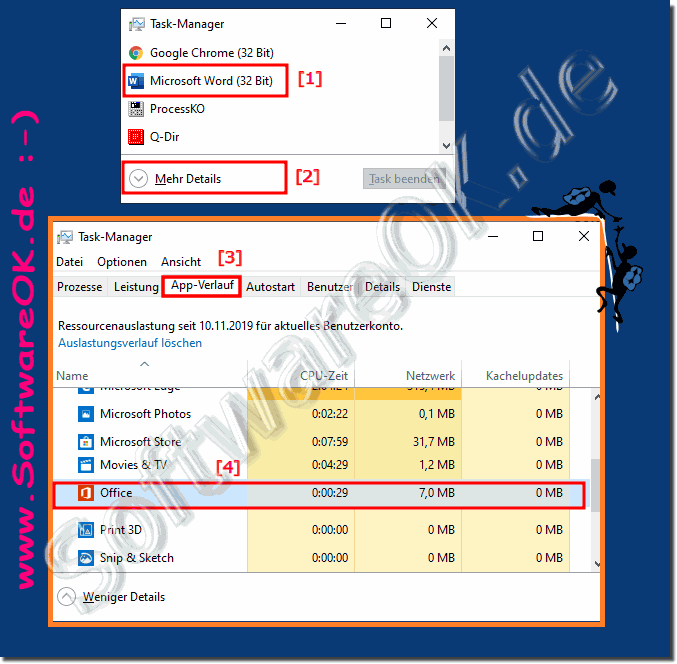 3.) Why the background activity of Microsoft Office?




Your MS Office is active in the background as it is running background activities. This can happen for various reasons as the Microsoft Office applications need to be active in the background. Here are some possible reasons:




Automatic updates: Microsoft Office applications can check for and download updates in the background. This is done to ensure that your applications are always up to date and receive all security patches and bug fixes.

Cloud sync: If you store Office documents in the cloud such as OneDrive or SharePoint, the application can sync files in the background to ensure your files are up to date across devices.

Add-ins and extensions: If your Office applications have add-ins or extensions installed, they can run in the background and perform certain tasks or services. Some add-ins may require constant activity.

Notifications and tasks: Office applications can run in the background to view notifications or perform tasks you have scheduled, such as: B. sending emails at a specific time.

Integration with other applications: Microsoft Office applications can interact with other applications and services such as Outlook to manage email and appointments. These integrations require processes to run in the background.




If you notice that Microsoft Office is running in the background and you want to prevent this, you can check and adjust the settings in the Office applications. For example, you can configure automatic updates or disable add-ins to reduce background activity. Please note, however, that some background processes are necessary to ensure the full functionality of the Office applications.





FAQ 20: Updated on: 17 October 2023 16:33