Recognizing the version / date of the driver on MS Windows 11, 10, ... or Sever operating systems makes sense before downloading large driver packages pointlessly!


Outdated drivers sometimes cause Windows to start slower or become slower and slower !

Contents:




1.) Determine the version of a driver on all Windows!
3. In the Windows Device Manager, use the arrows to scroll down through the category

4. And then right-click on the device itself

5. In the properties dialog that now opens, via the "Driver" tab 
(
... see Image-1 Point 1 to 5
) 
As you can see, in the "Driver" tab you can see not only the driver manufacturer, but also the driver date and the installed driver version of the corresponding device that you have opened!
(Image-1) Can I see the version of the driver on all MS Windows OS!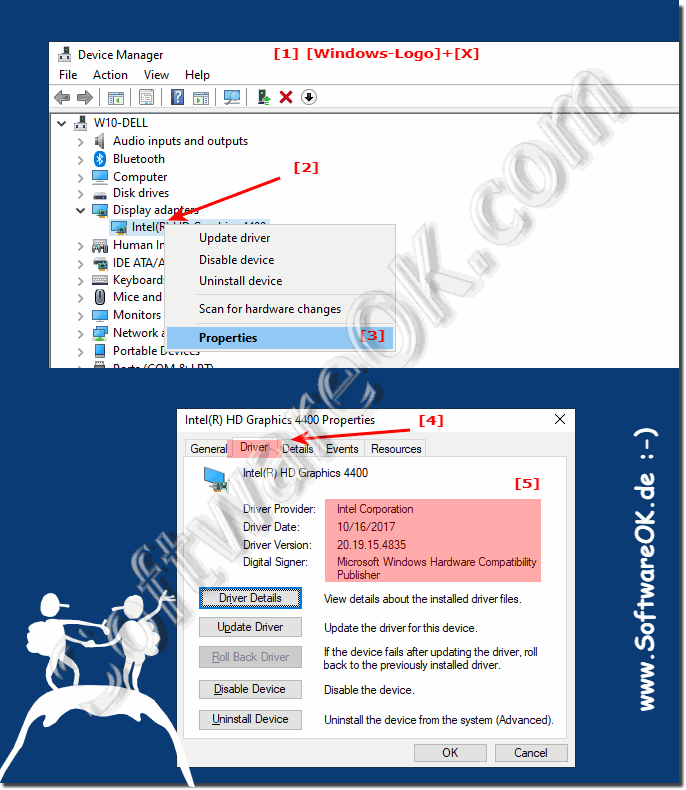 2.) What else is a look at the driver date good for?
Whether you have an up-to-date driver or not makes sense, for example if you realize that the Windows driver is more than 2-3 years old, it may well be that your manufacturer has a newer version of the driver.

Original drivers usually offer the best performance on the computer, here are a few links to the most important devices and computer manufacturers!

►  Brother  ►  HP  ►  Samsung  ►  Dell  ►  Xerox  ►  Epson  ►  Canon  ►  OKI  ► Kyocera  ►  AMD  ►  NVIDIA  ►  Intel

After visiting the hardware manufacturer's driver page, you can quickly tell if you have the latest driver by comparing the version available on the website with the currently installed version. (As described above)
 



3.) More tips regarding Windows drivers!
FAQ 14: Updated on: 4 June 2022 08:05