The solution is quite simple to increase the desktop icon (symbols) number on the Windows desktop to place more desktop icons on the desktop!


Please open DesktopOK, and please activate the tool Windows-Metric (... see Image-1 Arrow-1)

By reducing the horizontal and / or vertical icon spacing (... see Image-1 Arrow-2) , more icons can be placed on the Windows desktop!

It is independent of whether you change the desktop icon spacing at Windows 10, Windows 7, or 8.1, 8, or x64, or x32 (x86) version of ms-windows, it always works!




(Image-1) Maximize the number of windows desktop icon!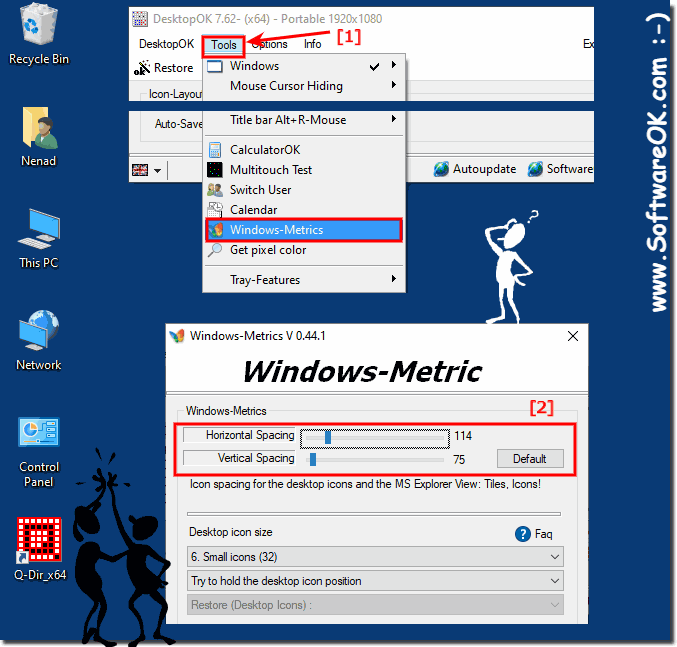 This solution to maximize the number of windows desktop icon positions is suitable for: Windows 10 Pro, Windows 10 Enterprise, Windows 10 Home, Windows 8.1, Windows 8.1 Enterprise, Windows 8.1 Pro, Windows 8, Windows 8 Enterprise, Windows 8 Pro, Windows 7 Enterprise, Windows 7 Home Basic, Windows 7 Home Premium, Windows 7 Professional, Windows 7 Starter, Windows 7 Ultimate, Windows Vista Enterprise 64-bit edition, Windows Vista Ultimate 64-bit edition, Windows Vista Business, Windows Vista Business 64-bit edition, Windows Vista Enterprise, Windows Vista Ultimate, and Windows XP Home and Pro
FAQ 21: Updated on: December 22th 2016 16:14