The message "Change your password" can be deactivated and activated at any time under all Windows operating systems!





After a while, usually after a month, the message  "Change your password" or "Change your password if necessary" keeps appearing. This message can be deactivated or turned off very quickly.





See also:  How can I change user passwords without knowing the current password ?

1.) The quick deactivation through the password / password repetition!
By repeating the current password, simply use the key combination Windows + R and the command:

control userpasswords2, highlight the user and press the

"Reset password ..."

button.

Just repeat your current password or leave the password field blank to work without a password under Windows. 

(... see Image-1 Point 1 to 4)



(Image-1) Reset the Windows 10, 8.1 password!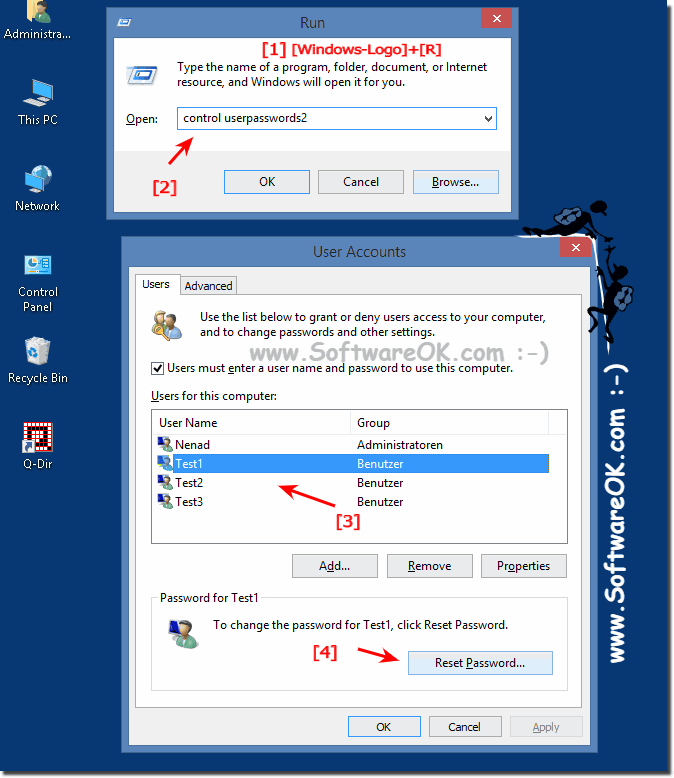 When you start Windows 10 or the old Windows 8, you will be prompted to enter a password to log in. This allows you to protect your computers from unauthorized access. However, if you are the only person who uses a computer and does not want a password to query Betsy every time, you can cancel the process and log in to Windows without entering a password. 

► Disable the lock screen in Windows 10 ► How to find auto startup folder in Windows 10  




Strong  password !
Often times, a strong password has between six and ten characters (the more the better) numbers, other characters, and upper and lower case letters. An example of a strong password. $diamondR1W10

Ineffective password!
A password that is ineffective because it is easy to remember. Names, dates of birth, phone numbers and easy-to-guess words are considered weak passwords, for example safe

2.) Permanent deactivation of the password change request!
Start the command lusrmgr.msc  via Windows Run Dialog [Windows Logo + R] . 
Select the Users folder: 
Mark user account + [Enter] or click, activate
"Password never expires"
! 
(Image-2) Password never expires on Windows all OS!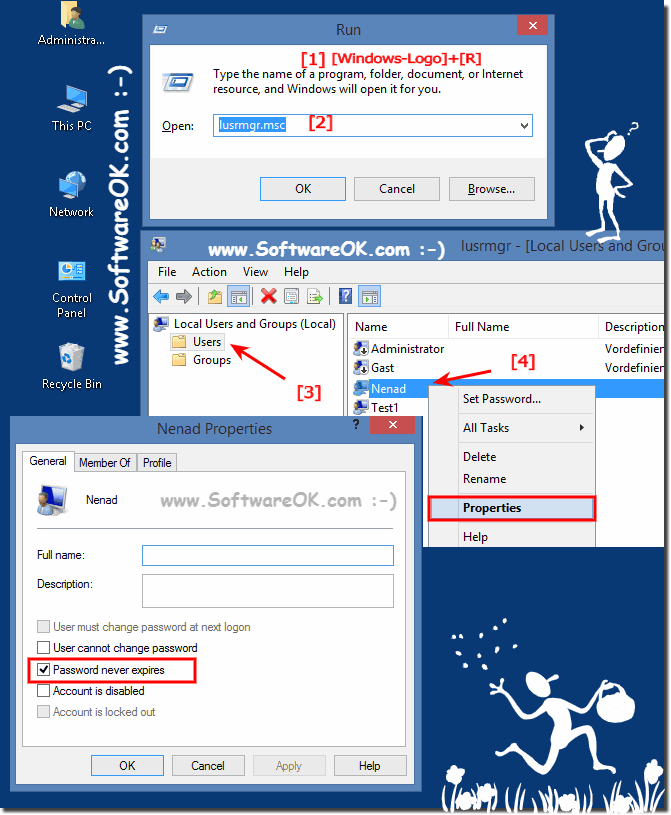 The password!
Password, sometimes derived from the English "password", is a password that consists of a string of secret characters or words that are used to access a Microsoft Windows, MAC computer, Linux, or Android smartphone and tablet, or a website, or a network data carrier. Passwords help ensure that computers or data can only be opened by those users who have been granted the right to view them, or even to access them and, for example, to change them.
FAQ 62: Updated on: 21 September 2021 17:57