Yes, the WinSxs ("C: \Windows\winsxs") is a mystery, an enigmatic phenomenon :)!


Content / Tips / Solutions:




Foreword:

It seems as if WinSxs would consume the hard disk space, but this was already the case with Vista, not only in Windows 10, 8.1, 7, ..., here is a brief definition of the term to understand the size of WinSxS and how Windows assigns and handles the files!






1.) The WinSxs folder is actually not as big as it claims to be!


In any case, it is the case that the WinSxs folder is actually not as big as it specifies or as it is displayed by Explorer.

There are a lot of "hard links" stored in the WinSxs folder that refer to the real files. In MS-Explorer, of course, these appear as real files, sometimes over 10 "hard links" are created for a single file.

What does that mean exactly:
If the file concerned (10 "hard links") has a size of "1 MB", 11 MB appear in Explorer. You yourself + the 10 "hard links", ie 11 * 1MB.


2.) Brief explanation of "hard links"!


One speaks of "hard links" if several entries refer to the same file descriptor, in clear text: to the real entry on the hard disk (file record).

You can think of this as a shortcut, only that it is also registered as a file in the normal file system, although it is not there as such, but only represents a reference to it.

For this reason, the term "hard links".




(Image-1) Windows 10, 8.1, ... disk capacity, free and used space!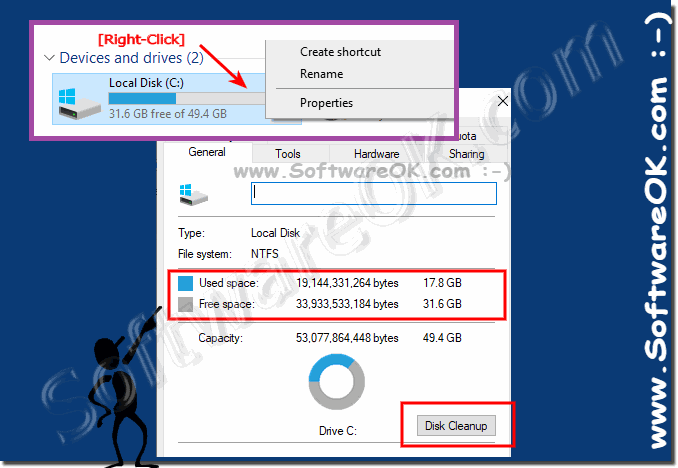 4.) Why is it getting bigger (the WinSxs folder)?


And every time you install and uninstall new software, you can find that your winsxs gets bigger and bigger because Windows 10, 8.1, ... or MS-Server creates multiple copies, or "hard links", for example to save the DLL files to avoid compatibility problems in the applications.

However, this also happens if you have installed and uninstalled the same software. As an example: You install OFFICE, uninstall it and install the same again. The result: WinSxs gets bigger and bigger, or even more "hard links" in WinSxs!



5.) Delete it yourself in the WinSxs folder and ensure order!


You should never do that!

You can see the real drive usage - consumption! For example, if you right-click on the drive and select properties (... see Image-1) , you can clean the drive by clicking on "Clean" or by deleting the restore points via the "Other options" tab.

This means that older Windows PC backup images or complete restore points can be cleaned up and space is saved on the hard disk.




5.) Why was that introduced in Windows 7 and Vista?


Well, it should be for compatibility and security. Not just to confuse us, although once you understand it you are still confused.


6.) Why was that different in Win XP and Server?


XP could be installed on FAT-32, under "FAT-32" no hard links are possible, so the "hard links" were not used by Windows XP, or only in rare cases.

 You can free up additional space by removing all but the last restore point.



(Image-2) Clean the SYSTEM Disk C!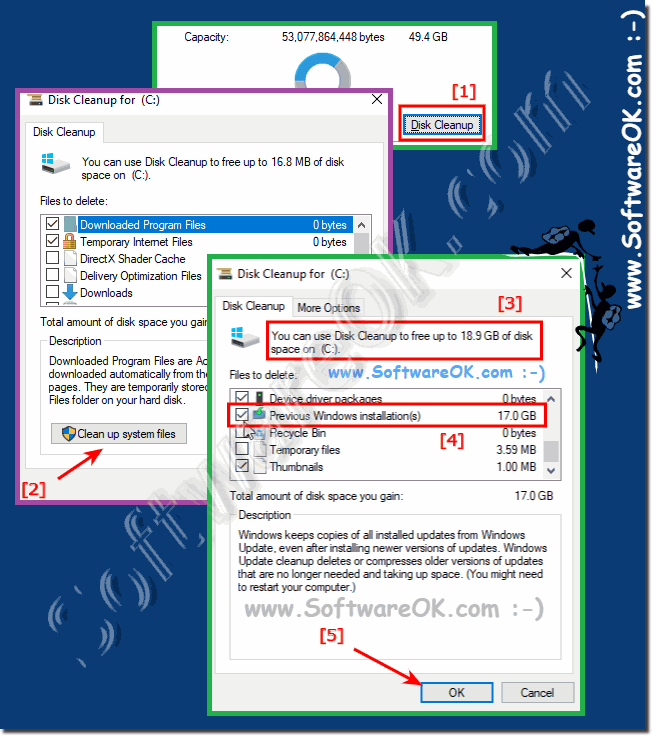 FAQ 28: Updated on: 9 June 2020 09:32