This is an example how to paste a signature from image on HD, to Word Pad via Windows Keyboard Shortcut, suitable for MS Windows 11, 10, ... OS!
Content:

This works in WordPad and in all MS Office products, Word, Excel, PowerPoint, ... and is very practical! 


1.) The commands for inserting images with shortcuts in programs!
1. 
Start the Quick Text Insert Tool. 
2. To add a command to paste images use the command 
img:
 and the path of the image. 
img:C:\Signature\800px-Jon_Kirsch's_Signature.png
 (
... see Image-1
) 
Full description: ► 
How to paste images via image path to an active program via clipboard?
You can find some info in 
... Quick text paste FAQ
(Image-1) Paste images  signature to Word Pad keyboard shortcut!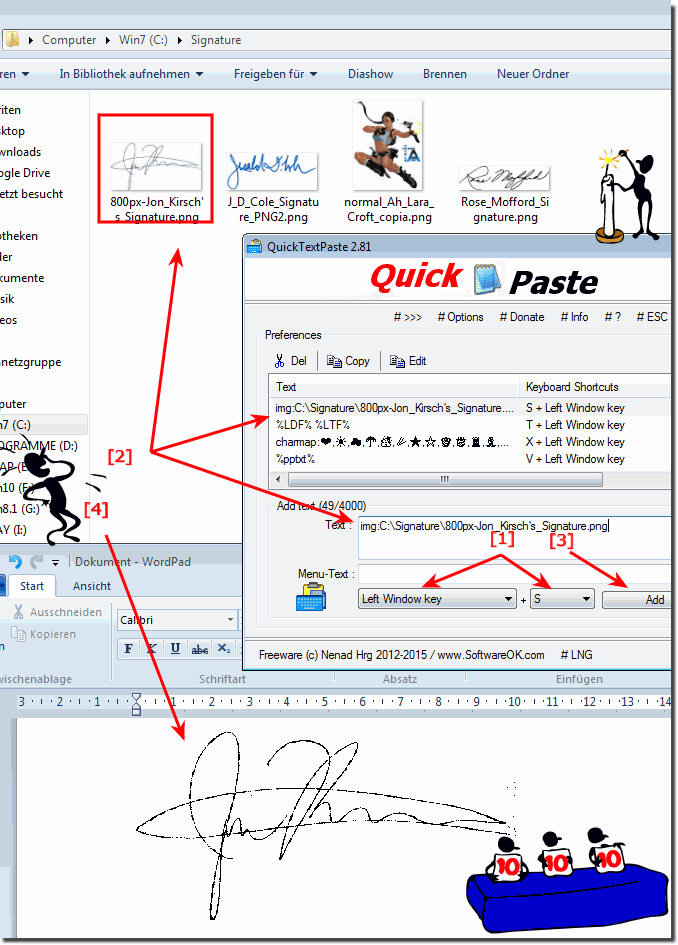 2.) Why insert images into programs and documents with a shortcut?
Of course you know that you give your document a personal touch with your handwritten signature. You can simply scan your signature and save it as an image and then insert it into the document. It is best to save it as a transparent image PNG, GIF, etc ...
The procedure around 
the 
save your own signature as an image file!
1. First write your signature on a clean sheet of paper, the paper should ideally be white in order to scan the signature as best as possible.
2. Scan the freshly signed page and save it in an image file format on your computer, it can be BMP, GIF, JPG or PNG. 
3. Open the image file with your signature in a
drawing program such as MS Paint
. Since you should crop the image, click it to open the Format tab under "Image Tools", click Crop, and then crop the image.