The simple renaming of the PC name in Windows 11 is also possible without much effort!
Content:
1.) Quickly rename your Windows 11 PC!
1.
Windows + i
to the Windows settings
2. Click rename the PC name in
"System"
3. Assign a new PC name for Windows 11
(
... see Image-1 Point 1 to 3
)
The Windows 11 computer in a network should have a unique PC name so that the computers can recognize each other in the network. To communicate with each other. It is best to use short and easily recognizable computer names as computer names.
(Image-1) Simply rename the PC name in Windows 11!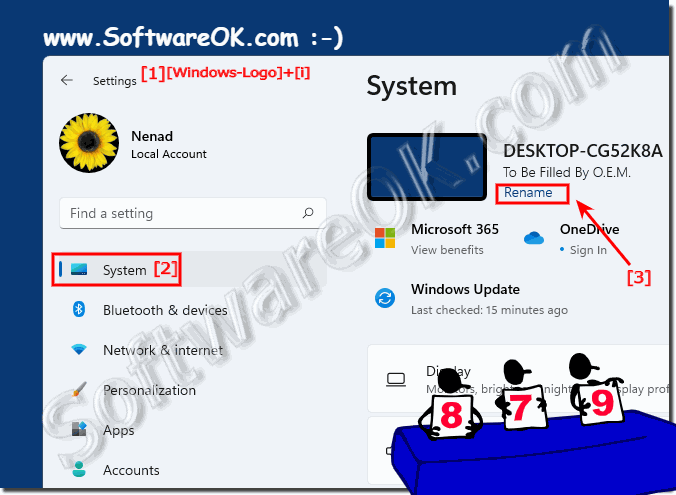 2.) Why is it so easy to rename the Windows 11 PC, what should you consider?

Renaming Windows 11 PC is so easy because it only requires a few steps and does not require any special knowledge or skills. To change the computer name, all you have to do is follow the steps described above.


However, there are a few things you should keep in mind when renaming your Windows 11 PC:
- The computer name can only contain alphanumeric characters, no special characters or spaces.
- The computer name can be a maximum of 63 characters long.
- The computer name cannot use the name of another computer on the same network.
Here are some additional tips for renaming your Windows 11 PC:
- If you want to use your computer name on a network, you should choose a unique name that is easy to remember.
- If you are using your computer name for a personal purpose, you can choose a more creative name that reflects your personality.
- If you're not sure how to choose a good computer name, you can search online for inspiration.
Info:

Renaming a Windows 11 PC is actually a pretty simple task that you can do in just a few steps. After you change the name, Windows will ask you to restart your PC to apply the changes. Click "Restart now" or postpone until later if it suits you better. That's it! Your Windows 11 PC now has a new name. It is important to note that changing the PC name usually does not have a serious impact on the functionality of the computer. This name is used to identify your PC on a network and is useful when using file sharing or remote desktop services. Make sure the name makes sense and is unique to avoid confusion.