It is quite easy to change the loudspeaker for playback in Windows 11, an important point, especially when there are several audio connections!
For example, if you want to switch between speakers, headphones, headsets or other audio output devices under Windows 11, this is very easy thanks to the Windows 11 settings and the new button in the taskbar. Here are a few tips and options on Windows 11!
1.) Adjust the sound playback in the settings!
1. Via
Windows + i
just open the Windows settings
2. On the right side to
System
3. And scroll on the right side to
Sound
4. Now simply select the output device for playing the sound (optionally the volume)
(
... see Image-1 Point 1  to 7
)
(Image-1) The speaker selection in the Windows 11 settings!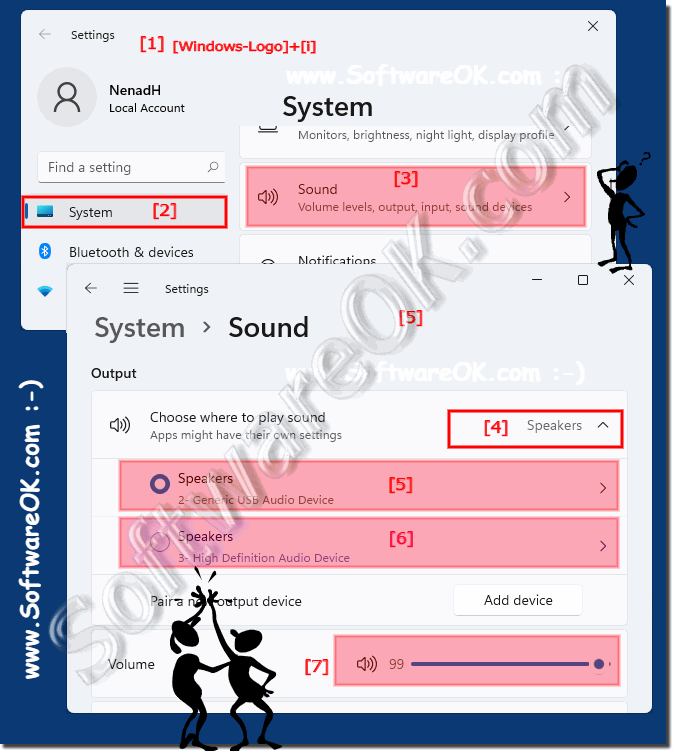 2.) To the audio output devices via the Windows 11 taskbar!
It is very practical to change the loudspeaker Windows settings by right-clicking on the loudspeaker symbol in your system tray.
(
... see Image-1 Point 1 and 2
)
Select
"Sound Settings" in the drop-down menu,
 thus saving you the long way through Windows + i System and Sound!
(Image-2) Adjust speakers for audio output via the taskbar!


3.) ... Playing for sound via the key customization menu!
To do this, open the quick settings menu by clicking the hidden button around the speaker icon in the lower right corner of the taskbar.
When the quick settings menu opens, click the side arrow (caret) next to the volume slider.
When you are in the list of audio output devices, click the sound playback device that you want to use.
(
... see Image-3 Point 1 to 4
)
(Image-3) Sound playback device via the quick adjustment window!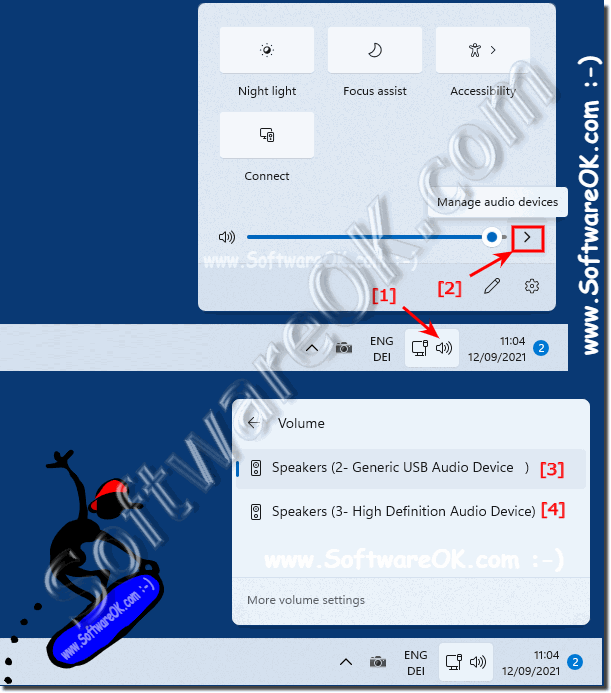 4.) The classic audio output device customization!
1. Start the Windows 11 control panel as always
2. F3 + term
"sound"
3. Then just open the sound settings 
4. And define one of the speakers / audio output devices as the default!
(
... see Image-4 Point 1 to 6
)
(Image-4) Classic speakers settings for audio output in Windows 11!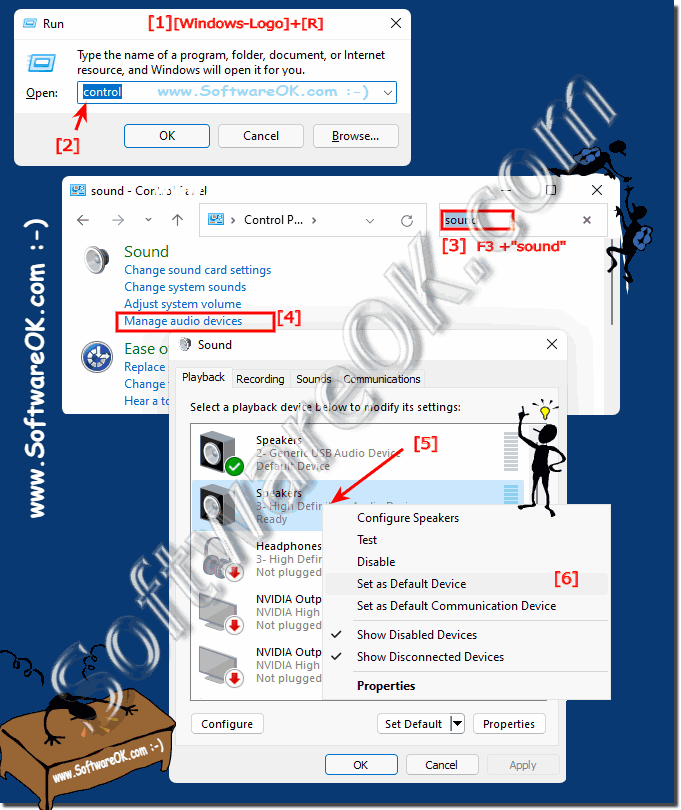 5.) What should you watch out for with the audio output devices under Windows 11?
It's easy to change the speakers in the ► 
Windows 11 settings
, if you right-click on the speaker icon in your system tray, or do this via the classic sound settings in the control panel. With all the audio output settings you can do it without any problems!