Here is the solution to delete users, or move to other user groups under Windows 10!
Some Windows users have trouble managing user groups and moving users to other user groups to get different permissions, here is the easiest way to manage users.
No matter whether users are deleting or moving to other user groups on a Windows desktop PC, on the go, on the tablet, Surface Pro / Go, or even on an MS server operating system!
Content / Solution / Tips:
See also: 
How do I list all users through the cmd.exe (command prompt)?
1.) Delete and move the local users without any ifs and buts!
The command
control userpasswords2
  is also the best option
Windows + R
(
... see picture-1 point 1 to 8
)
(Picture-1) Moving the user accounts into other groups Windows 10!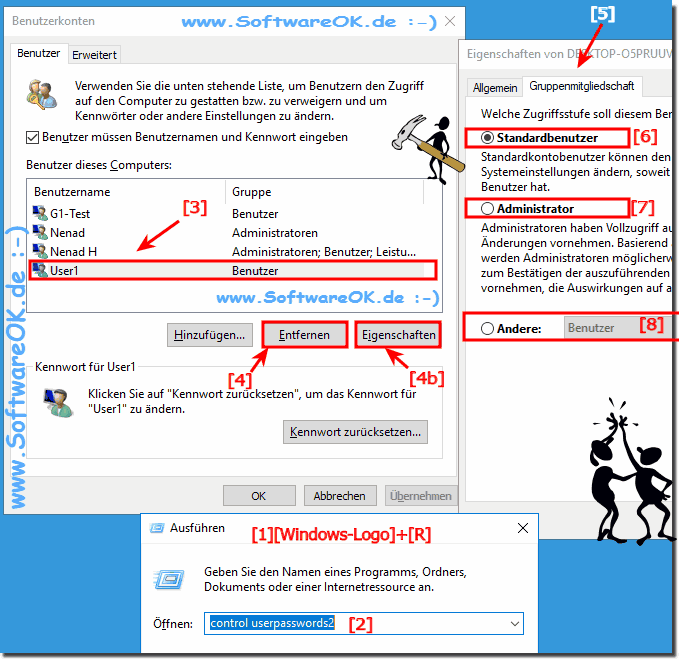 Info:
Creating and managing user accounts in Windows is based on Windows NT and is nothing new in Windows 10, nothing has changed here and works as always under other OS and also under many other old operating systems.
Nevertheless, a very practical and simple and useful feature to facilitate the management and creation of user accounts in Windows Microsoft.UserAccounts is a user management feature that makes managing users much easier and allows a quick overview of the accounts that log on to the Windows machine and whose access rights can be clearly managed, changed and edited!
What should I watch out for when deleting and moving local users?
Guest accounts and other accounts are not only available on all Windows desktop operating systems of Microsoft Windows, but also Appels Mac, Ubuntu, Chrome OS and other Linux systems enable the setup of a user / admin / guest account.
Not all user accounts are enabled by default in Windows 10.
But they can do a lot to manage and use them even faster.