If there are problems in the network, resetting network adapters in Windows 11 can solve the problem!



Contents:


1.) The network reset function in Windows 11! 
1. Start the Windows 11 settings as always  (Windows + i key) 

2. Via Network & Internet ► scroll down and open advanced network settings

3. Scroll on the right side again to: Reset network 

4. Press the button Reset now

( .. . see Image-1 Point 1 and / to 5 )



Once you have completed the above steps, restart your computer. This will remove and then reinstall your network adapters and restore other network components to their original settings. After that you have to reinstall all network software, passwords, ....!





(Image-2) Resetting network adapters in Windows 11 via the network reset function!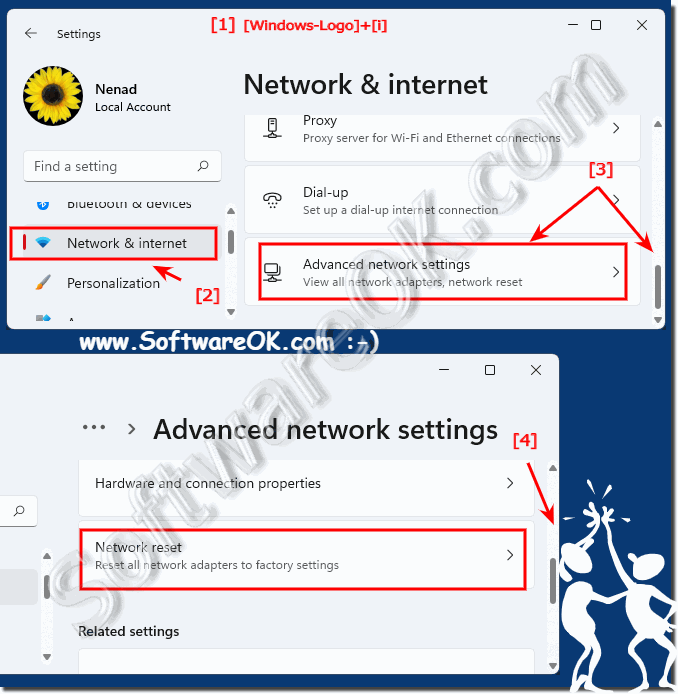 2.) More tips on networking under Windows 11!
Network problems under Windows are not that uncommon, especially if you work on the computer via WIFI or WLAN. Problems with wired network connections are less common. However, sometimes there is no other way, because the latest notebooks no longer have a network connection, so that you have to rely on Wifi.
Here you will find more helpful tips on network and Co under Windows 11, which may help you to prevent problems or avoid network problems or simply to learn something new.
FAQ 96: Updated on: 26 August 2023 07:05