It is quite easy to display or recalculate the Windows 11 ExperienceIndex for Windows 11 with a 100 KB tool, is OK!


1. Please start as always ► .. the latest version of ExperienceIndexOK for Windows 11

2. Click, start recalculating the performance index (Point 2)

3. After 1-2 minutes, they click on "Reload" and the

Windows 11 performance index is displayed to them 

(... see Image-1 Point 1 to 3) 
  



(Image-1) Windows 11 have a performance index!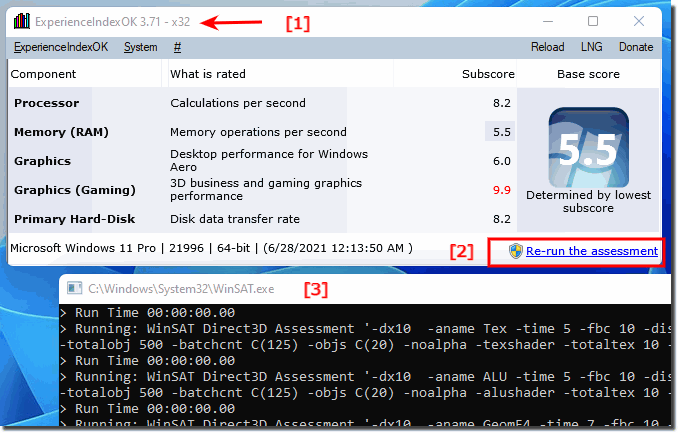 Info:

The Windows 11 Experience Index has always been a quick way for Windows users to determine the overall performance of their PC and the immediate bottlenecks. Microsoft has removed the graphics version of the Windows Experience Index in Windows. However, the underlying tool, the Windows System Assessment Tool, lives on. Better yet, you can easily access the old performance ratings. So you can check your Windows Experience Index on Windows 11.



(Image-2) Windows 11 and the Experience-Index-OK!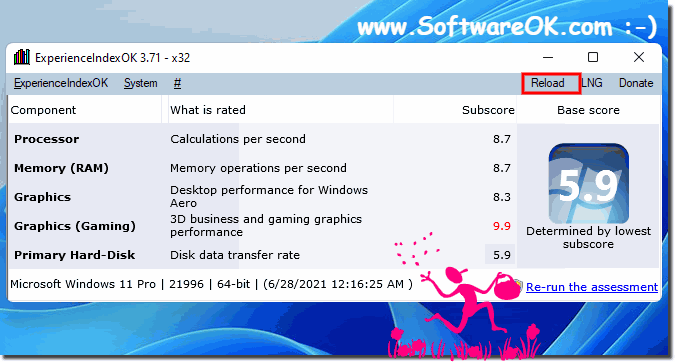 info:
Even on Windows 11, the performance index is a number that can give an approximate idea of the performance of your PC, tablet, Surface, ... , or laptop. Your system is estimated from 1 to 9.9 points on Windows 11. The final result is displayed according to the weakest component.

FAQ 9: Updated on: 25 June 2022 06:09