It's easy to check if Auto-HDR support is available under Windows 11!


Everyone probably knows ►► what HDR is, all the more annoying when you can't find the settings on Windows 11! 


Contents:



1.) Auto HDR support on Windows 11 
1. Start the Windows 11 settings as always 

2. Click on  "System" ► "Display"

3. Then on "More information about HDR" 

4. You will then be shown whether HDR is supported by your graphics card!




PS:

Intel has released a new graphics driver for Windows that supports the new Windows 11. The new version number is 30.0.xxx.xxx. Intel adapts to Windows 11 and also offers full support for the new Windows 11 Microsoft Auto-HDR on Intel processors from the 10th generation with Iris Plus graphics or better. 





(Image-1) Windows 11 detect auto HDR support!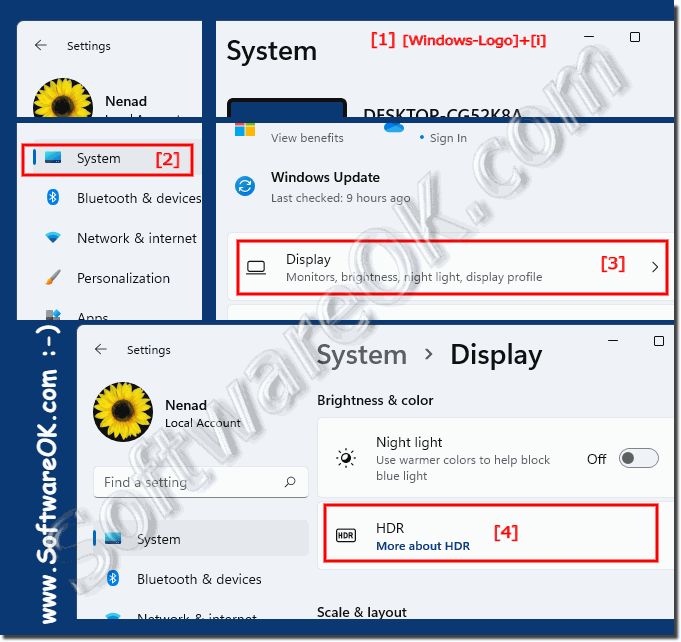 2.) Enabling HDR in applications!
Some PC games that support HDR can also turn HDR on and/or off via Settings, Graphics, usually via a menu item. It should be noted that not all applications work with HDR, for example those that run with their own screen resolution / settings!


3.) More tips on display, customization, ... and Co. on MS Windows! 
The display and various adjustments are important on MS Windows 11 as they used to be on all desktop and/or MS server operating systems when it comes to changing various display settings on the system, so it is all the more important to keep an eye on them to keep. Here you will find further links and tips on the subject of advertisements and the like, which can help you more or less!




Just click through and find out: 













FAQ 81: Updated on: 26 August 2023 06:58