If you have installed different languages ​​under Windows 11, it can happen that both appear mixed in the Windows settings!  


If Windows 11 is partly in English and German, you only have to use the correct setting so that German, English, ... etc. are not used / displayed at the same time / mixed in Windows 11!

1. As always, open the Windows 11 settings ( Windows + i )!   

2. Use the search term  "Language" to go directly to the language settings 

3. Check whether Windows 11 is set to English

4. Important:   ► Move English to the first position  in the available list
(by dragging and dropping or using the [...] menu put in the first position)

(... see Image-1 Point 1  to 5)




PS:
I noticed that you have to repeat this step occasionally, you must not forget that Windows 11 is still in the development stage and that some bugs will also be present in the first officially released Windows 11 version, some of them are do not matter that much!






(Image-1) Windows 11 sometimes appears in different mixed language!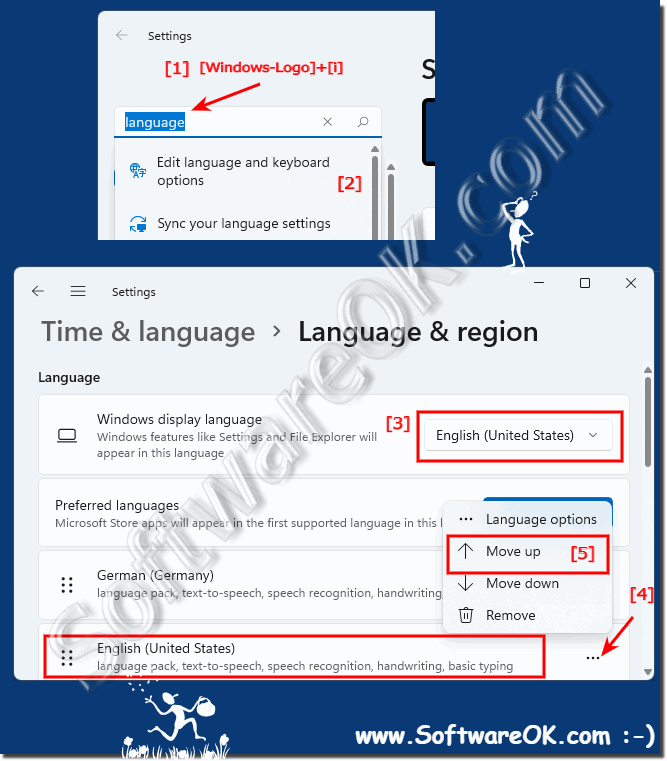 FAQ 130: Updated on: 3 September 2021 10:48