Removing or deleting fonts

on Windows 10 / 11 is just as easy as uninstalling the fonts in previous versions of Windows!






1.) Removing the fonts from the Windows fonts!
1. Please use Windows+R keyboard shortcut, to start the Windows-10 Run Dialog! 
(or Windows+E and F4)

2. Type the following command, and then Enter: shell:fonts or %windir%\fonts  

3. In the MS-Explorer click / select one or more Fonts and the Button Delete to uninstall the selected fonts in Windows-10. 



(Image-1) Windows-10 Uninstall Fonts!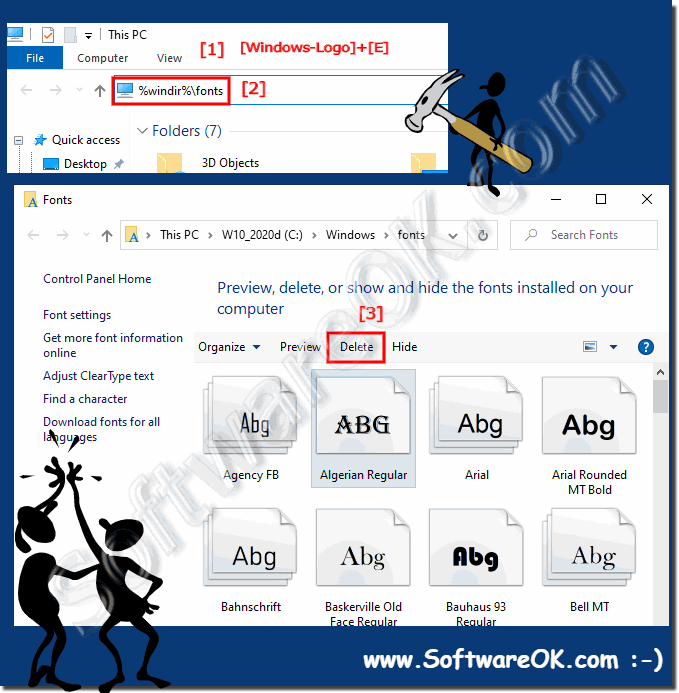 2.) Are there differences between 64-bit / 32-bit fonts?
That they are files and not drivers or applications, you can even use your Windows XP fonts with Windows 10 and 8.1! You do not need x64 / 64-bit fonts or fonts for Windows 64 bit! 




3.) What should I watch out for when removing / uninstalling the fonts?
If you remove fonts that are required / used by the operating system, that these fonts are installed automatically or reinstalled from Windows 10, or if necessary by other programs that need these fonts.



 

4.) Fonts problem in Windows File Explorer are no longer displayed!


With some Windows Update 2018, the fonts in the Explorer are not displayed correctly on some systems; the system must be restarted on the systems in question, so there is no simple shutdown.  





Some users have had this problem for several months and others say that similar problem also existed on Windows 8.1 and Windows 7. This could be related to a process in Windows. Unfortunately,

troubleshooting

is not an easy fix, and

restarting your

computer is not the solution to temporarily fixing this problem. Maybe in the next big update.



5.) PS: Also suitable for Windows 8.1 and 7 and MS Server!
Many
Windows 10 users
add additional fonts to their operating system for one reason or another. Sometimes it is necessary to create a document with a certain font,
or when processing photos
. But after the actions performed, the new fonts disappear or are not uninstalled correctly by the program. Which also means that the operating system is simply clogged up. Here is the solution on how to completely remove fonts in Windows 10 so that they are uninstalled and not unnecessarily burden the computer.
FAQ 193: Updated on: 25 August 2023 14:02