Yes, and it's even easy to save
your private photos as PDF files

so you can conveniently send them by email!





Especially if you want to have the pictures as PDF because of the upper limit of the email size, you can do it quickly without having to

upload your private pictures to dubious websites

, which can be very dangerous because some get a bad virus when downloading the PDF, why to take the risk if it does not have to be!


1.) Turn photos into PDF files for Windows 11, 10, ... etc.!
1. Start WinScan2PDF as usual

2. In the tool, switch to PDF as "Scanned page"
(adapt the PDF pages to the picture format and not vice versa, unless it is desired)

3.  Drag one or more pictures into the list view of WinScan2PDF 

4. If necessary, sort them by drag and drop or right-click menu

5. and simply save them as a PDF file using the "to PDF" button

(... see Image-1)




(Image-1) PDF images with the correct image format or resolution!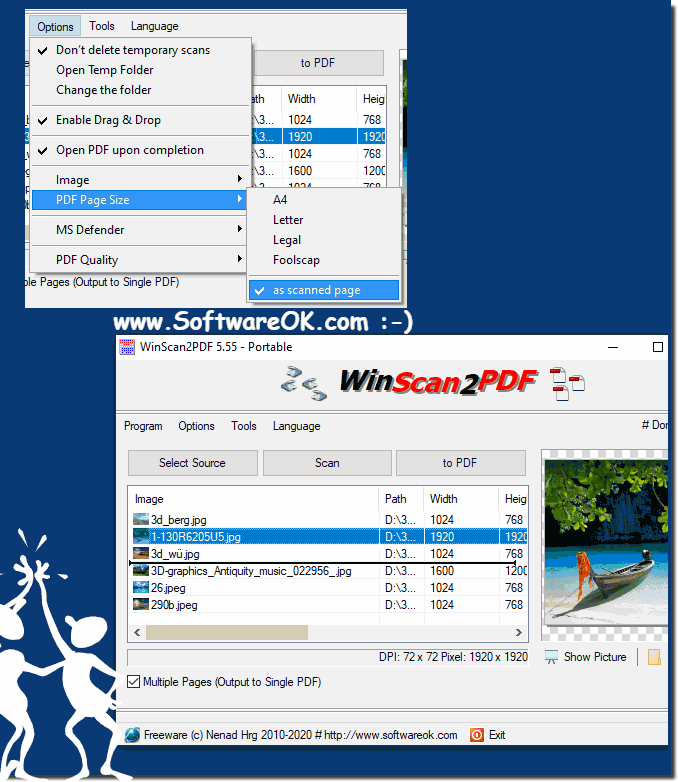 2.) What is the advantage of this photo to PDF solution on Windows 11, 10, ... etc.!? 
Your valuable private photos are correctly entered into the PDF file! 

Everyone knows a simple solution under Windows, but it doesn't always work well with PDF printing, that's a good alternative that you can fall back on. It is even worse to convert your photos on a website online into PDF files in relation to data protection, especially on non-German sites, so with this tool you do not run the risk that the private photo will land on wrong sites and the photos will be closed Making a PDF file is easy and safe!


3.) What should I consider when converting photos to PDF?
In the Tool on Images PDF set to "How Scanned Page", and the PDF pages will be adapted to the image format and not vice versa, unless it is desired!  This free software can automatically rotate, optimize and reduce images while maintaining the original resolution. Click to convert up to over 1000 images. Wait for the conversion program to finish.

Since it is freeware, it can also be used in the office, which is absolutely legal commercial use. You will also not be bothered by other advertising banners , which is the case with many tools that are not freeware but adware software!




4.) Shouldn't I convert my photos to PDF online is practical?  
1. Practically, but it doesn't always work when there are many! 
2. The data protection is partly not English or extra long, so you don't know what happens to your pictures  
3. If you do it online you send the data over several servers which is also a security risk
4. You have to rely on your internet browser not having the wrong spy addon 
So doing private things online can be very tricky, you can do it for non-important things, but you should never see pictures as PDF as a permanent solution, which is also not known to some website operators, and can upload private pictures to websites So it can be very dangerous, why take the risk if it does not have to be?  
You should never take pictures or scanned documents online, even storing them on a web server, i.e. the lovingly named cloud, you should think carefully, privacy should already be, the wild distribution on the servers whether documents, photos, videos, ... should be very careful!

5.) ... rotate the image if necessary before creating the PDF file on Windows 11, 10, ... etc.!!
To rotate the page image by, for example, 270 degrees, you have to right-click on the image. You can see the rotation of the images, photos do not require any graphic expertise or advanced knowledge to convert a simple image by 0.90 To rotate 180, 270 degrees! 
(
... see Image-2 Point 1 to 3
)
You can also mark several images to save time if several pages of the PDF document have to be aligned! 


(Image-2) Rotate the image or scans before PDF creation!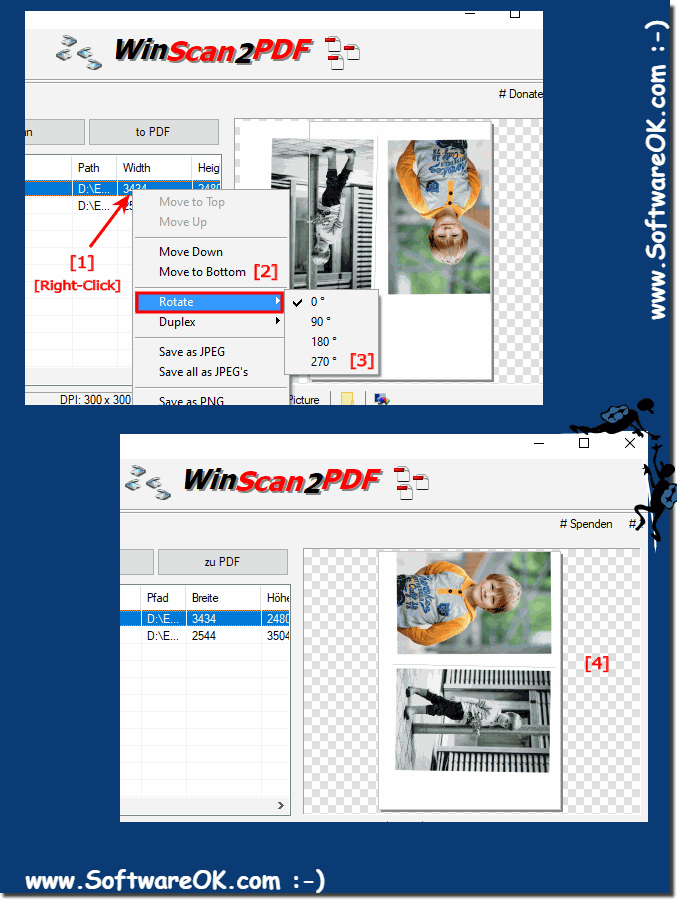 Turn photos into PDF files on: Windows 11, 10 , 8.1, 8, 7: Pro, Home, Enterprise, Basic, Premium, Professional, Starter, Ultimate, Windows-Server 2019, 2016, 2012



FAQ 24: Updated on: 26 August 2023 17:57