You can create a
new folder

very quickly, also using a keyboard shortcut, also known as a hotkey shortcut.

Content / solution:





In Q-Dir you have various options under all Windows operating systems, regardless of whether it is a server or a simple Microsoft Windows desktop PC, to quickly create new folders / directories using keyboard shortcuts! 


1.) New folder key shortcuts in Quad Explorer on MS Windows 11, 10, ... OS!
In all Explorer views in  Q-Dir  from version 2.77 you can use the key combination:

1.

[Ctrl+ N]

to  create a 

new folder

!

PS: This is only valid for the active Explorer window in the file manager! 

2. Via the "New Folder" button,

3. or the "SHIFT + F7" button combination ► "New Folder"

4. Likewise the "SHIFT + F5" ► "New" ► "New Folder" key combination

Q-Dir also supports all MS Explorer keyboard shortcuts: See here: Windows keyboard shortcuts
2.) Create a new folder via the address bar!
There is a button in the address bar to create a new folder. ( ... see Image-1 )

Which is also very practical because you can also create a new folder in the Explorer window that is not currently active, which is one reason why I developed Q-Dir. Here every Explorer window has a full address bar that does not lag behind that of MS Explorer.

See also: 

  
 


(Image-1) New-Folder in the explorer view of Q-Dir!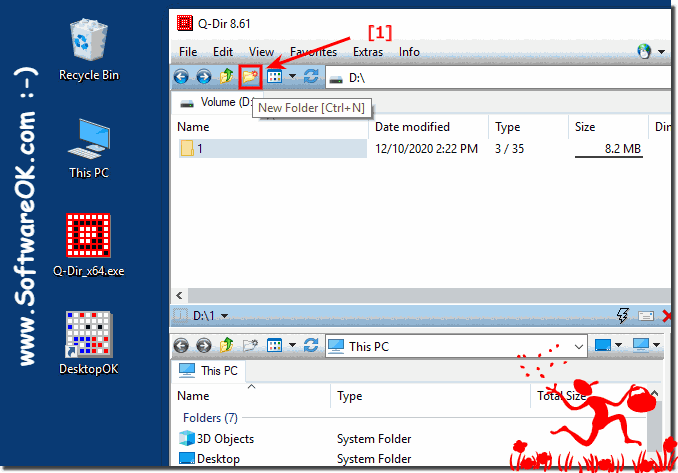 3.) ... Why can't I create a new folder everywhere?  



In some virtual folders such as: Recycle Bin, Network, This PC (My Computer) you cannot create a folder. In the current version, the "New folder" button is grayed out. 

(... see Image-2 Point 1 and 3)

If "New Folders" can be created in the folder, the "New Folder" button is not grayed out. Very old versions of Quad Explorer for Windows were not grayed out, which confused some users.

( ... see Image-2 Point 2 )




(Image-2) Can't create a new folder in the Quad Explorer!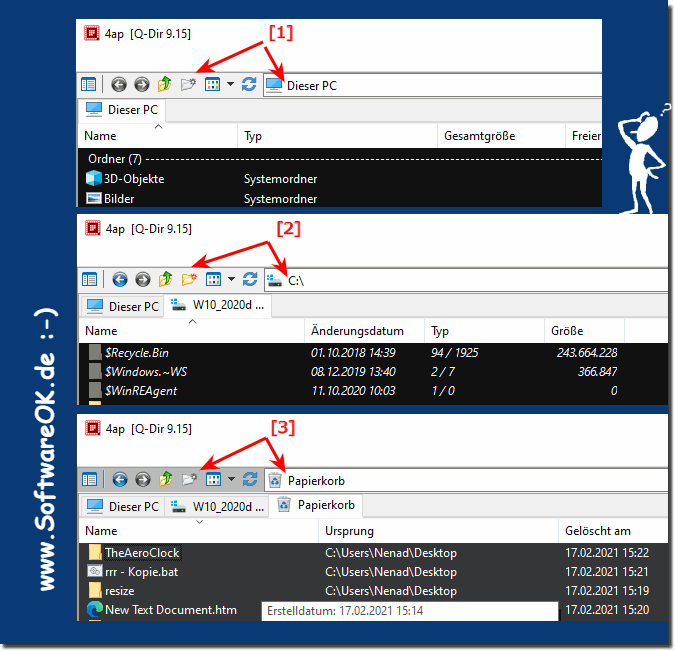 It is very easy to create create a new Folder in the Explorer View of Q-Dir, with the solutions and examples!



See also:




FAQ 3: Updated on: 13 July 2021 05:39