If a data type is opened with the wrong program (* .txt, *. Dok etc.), the standard application for the file type concerned should be changed
Many users who use the comfortable Microsoft Windows Explorer do not know that 
the Quad Explorer
is subject to the same conditions as the MS File Explorer, especially with the file extensions it is a system-wide assignment.
Only at point 3 here in the FAQ are there other options with which you can treat file extensions differently! 


1.) Procedure for correctly assigning the file extensions!
1. Open the directory in which the file with the wrong program file assignment is located.
2. Select the file and right-click to open the options menu. 
3. Go to "Open with"   and sub-option "Open with app" (earlier program)
( ... see Image-1 point 1 to 3 )

Continue with the: correct assignment here in the example of the JPG file

PS:
This wrong program file assignment problem solution is also for Microsoft Windows Explorer is valid because it is a system-wide file program assignment, otherwise follow the tips in point 3: ►►  More options for the file extensions!



(Image-1) Assign file types to the correct program under MS Windows OS!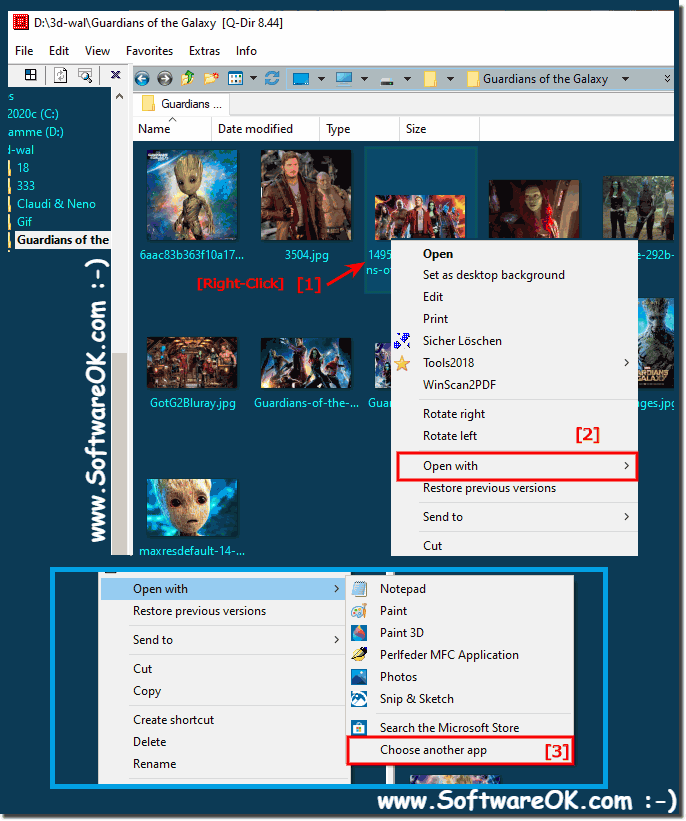 1b.) The correct assignment here in the example of the JPG file to "Adobe Photoshop 2018 32 Bit Photoshop.exe"




1. Scroll to the end (point 1)
2. Go to "More apps"

3. Scroll again to the end
4. "

Find another 

app on this PC" << Click on
(optional: always this APP (earlier program) Use to open .jpg files  

5. Enter the full path 
As an example: "C:\Program Files (x86)\Adobe\Adobe Photoshop CC 2018 (32 bit)\Photoshop.exe" 

6. Only on "Open" 

Not very simple, but you don't do it every minute, this also applies to Microsoft Windows Explorer and all other programs, i.e. a system-wide file extension assignment, not just for Quad Explorer !

Tip:Find out the program path for running processes / programs!




(Image-3) Open file types, file extensions correctly with a program!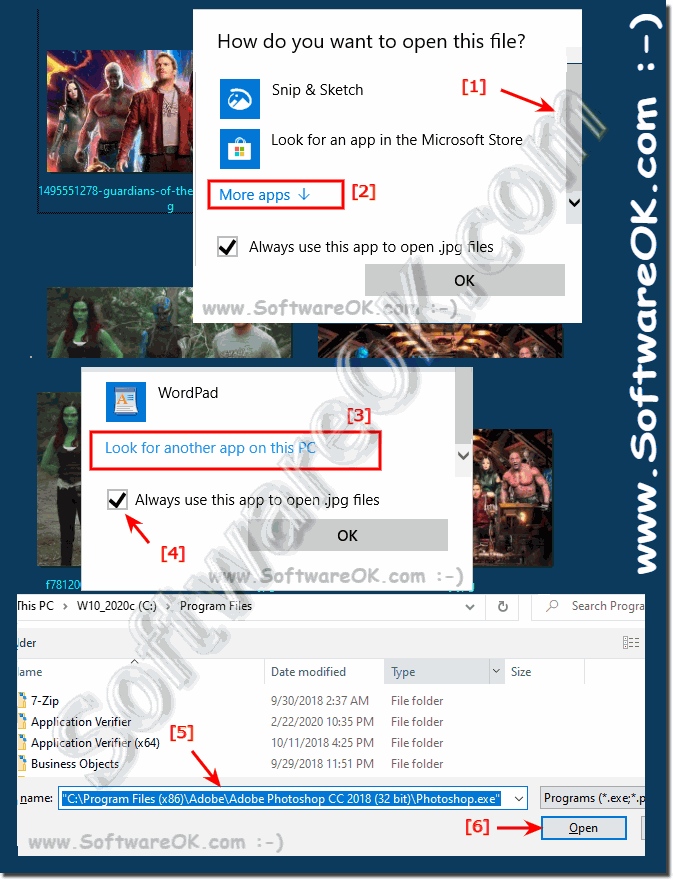 2.) General procedure in Windows 11, 10, 8.1, Windows 7!
See: 
►  In Windows 10, the files are opened with the wrong program!  
►  Specify  the Windows 7 file associations for file extensions for standard programs?


3.) Other options for the file extensions in Quad Explorer!
FAQ 1: Updated on: 13 July 2021 05:38