DesktopOK
saves the layout or icon positions

, if the MS Windows 11, 10, ... Update deletes desktop icons it is not because of Desktop-OK!



If you haven't turned off automatic

Windows updates in Windows 11 / 10

, your computer will automatically download and install the updates. While the regular updates are fine, serious problems can arise when the update starts deleting files. After the last update, many users reported that desktop files, apps, and some of their desktops and systems have also disappeared, but 

system data checking

 is never wrong.






Tip: Check beforehand whether these may still be saved in C:\Windows.old!


DesktopOK saves and restores the layout or icon positions!



1. Start the DesktopOK

2. Use the "Save" button to save the desktop icon positions

3. Use the "Restore" button to restore the desktop icon positions

(... see Image-1 Point 1 and 2)




(Image-1) Save and Restore Desktop Layout again!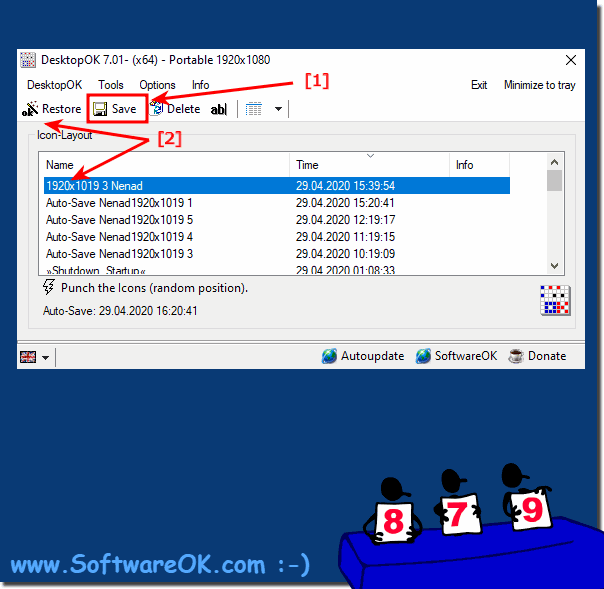 Do you like a personalized 
Windows 10 desktop with shortcuts
, files and other elements organized in a certain way? In this case, you may have noticed that they can change location when the screen refreshes. For example, this often occurs
when you change the screen resolution
. It can be very frustrating after you organize your desktop icons just to disorganize them when you plug in a
second display
or refresh the screen. With DesktopOK you learned how to fix this.
While in some cases, missing desktop icons can be caused by a virus infection, in most cases this is due to incorrect settings, icons accidentally hidden, or the wrong mode. Although most cases are due to the
tablet mode being
set accidentally instead of desktop mode, there are some other causes.
FAQ 34: Updated on: 23 May 2022 11:14