Some Windows 11, 10, ... etc. users often wonder about the difference between a file and a folder, it's no shame not to know!
Beginners in particular are confused if, for example, they have just downloaded a few photos or applications but cannot find the file they are in.


The files! 


A file is an individual element on your PC, be it a photo, a Word document, Excel spreadsheet, an attachment from the e-mail, or a downloadable file. 

The folder!


This can be thought of as a small container for all of these Windows files. Windows inherently has many folders of its own (Documents, Music, Pictures, Downloads, etc.) that you can use to store common types of files, but it's simple.

Anyone can create new folders and subfolders and rename them however they want.
Helpful information on folders and files!





(Image-1) Files and folders on Windows 11, ... etc. !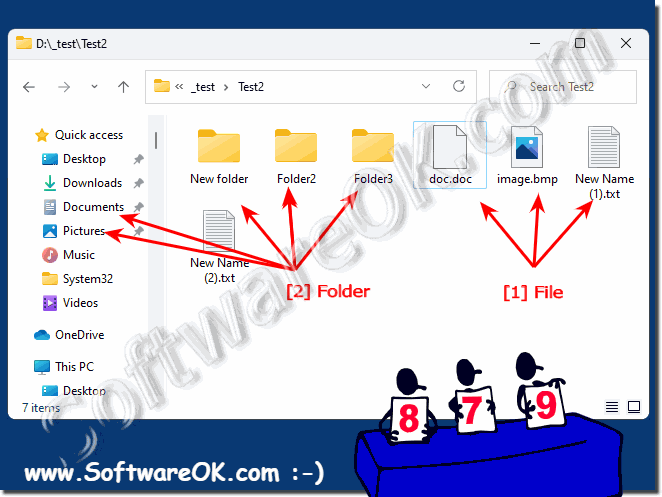 3.) The difference between files and folders, explained technically and soberly!

Files and folders are two fundamental concepts in organizing data on computers. Here is the difference between them:

Files:

- A file is a single unit that contains information or data. These can be text documents, images, videos, music, programs, spreadsheets and much more.

- Files usually have a specific file extension that indicates what type of file it is. For example, text documents often have a ".txt" extension, while images often have a ".jpg" or ".png" extension.

- Files can basically be opened, edited, copied, moved and deleted.

Folders (also called directories):

- A folder is a container structure used to organize and group files and other folders. This allows you to categorize your files and arrange them in a hierarchical structure.

- Folders can contain subfolders, which in turn can contain files and other subfolders, creating a hierarchical organizational structure.

- Folders make file management easier by allowing you to group similar files and organize file access.




In conclusion, files are the actual data items, while folders are the containers that organize and categorize files. Files and folders together form the basis for storing and managing data on computers.





FAQ 105: Updated on: 3 November 2023 08:43