The solution is very simple to list fonts from a folder under Windows 11, 10, ... and MS Server OS that are not installed!





The listing of not installed fonts is easy under MAC OS, every Appel user is overwhelmed in Windows, here is a simple example how to list and view this important problem of not installed fonts solve problem under Windows!



 

Content:



1.) List the fonts under Windows!
1. ► Download FontViewOK and Install it

2. Start FontViewOK

3. in "Font View OK" please click on the button From a folder 

4. Then simply select the directory from which the fonts should be displayed.

(... see Image-1 Point 1 to 4)




(Image-1) List fonts from a folder under Windows that are not installed!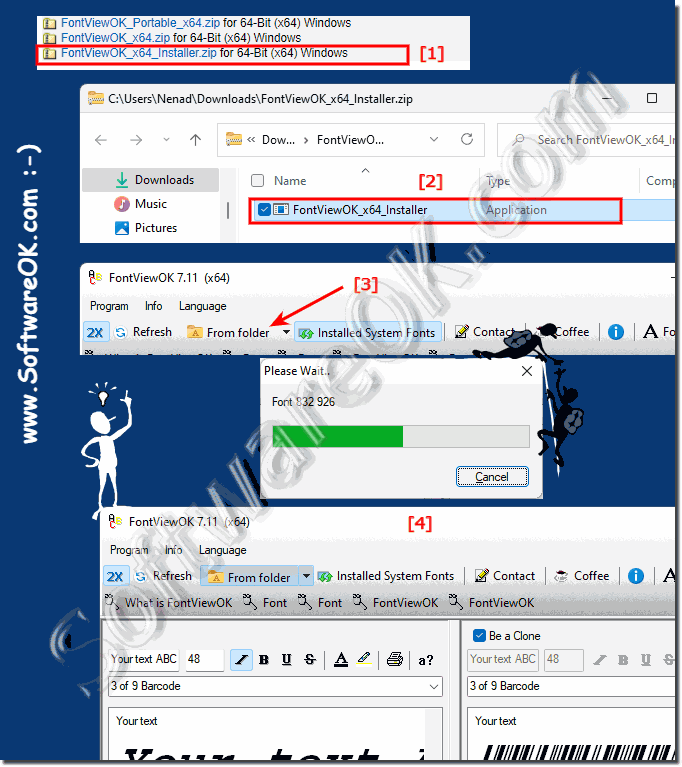 This Windows freeware that allows you to easily view the fonts / fonts not installed on your computer so that you know what they look like and whether to install them without installing them!

2.) Interesting facts about the different fonts!
A font is a graphic representation of text that can contain a different font, point size, weight, color, or design. You may be familiar with the fonts that you can use to view the currently installed fonts, or to install or uninstall fonts. 
See also: 

(Image-2) List fonts from a folder under Windows that are not installed!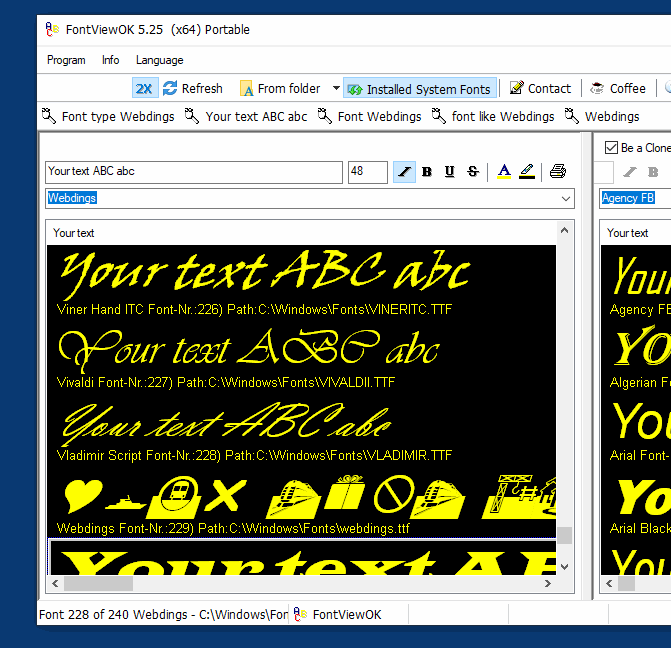 3.) What should I watch out for with the different fonts?

Choosing the right font is important in different contexts, be it for printed documents, websites, presentations or other text-based projects. Here are some things to consider when choosing fonts:

Readability: Readability is crucial. Make sure the font you choose is easy to read, both in printed documents and on screens. Fonts with clear letterforms and sufficient line spacing are often the best choice.

Target Audience: Think about your target audience. Which font suits your readers or viewers best? A kid-friendly font is different from a professional business font.

Brand Identity: When choosing the font for a company or brand, it should match the brand identity. Font can play an important role in how your business is perceived.

Context: Consider the intended use of the font. Is it intended for headings, body copy, quotes, or other purposes? Different fonts are better suited to different contexts.

Consistency: When using multiple fonts in a document or website, make sure they work well together and provide a consistent visual aesthetic.

Scalability: Consider how the font looks at different sizes. Some fonts look better at small sizes or on large posters than others.

Font Family: Use font families when possible. A font family contains different font styles (e.g. bold, italic, light, bold italic), which when combined offer more flexibility.

Licenses: Pay attention to the license terms of the fonts you use. Some fonts require the purchase of a license, while others are free for personal use or under open source licenses.

Accessibility: Make sure the font you choose meets accessibility requirements, especially if you're working for the web or for printed materials intended to be read by a wide audience.

Test the font: Before you finally decide on a font, test it in different contexts and actual usage to make sure it meets your needs.

Choosing the right font often requires some experimentation and care to ensure it fits your project well and conveys the message you want.






FAQ 102: Updated on: 8 November 2023 23:08