Especially with MS Windows 11 or 10 prevent many background apps / applications that the PC goes into energy-saving mode in time!
On some Windows operating systems and tablet PCs, notebooks, as well as Microsoft's Surface Pro and GO, adhering to the power options that you have adjusted as an user is important, but sometimes is not kept because background applications prevent this.
Content / Explanation / Tips:
1.) Preventing standby and hibernation is thus canceled! 
With a size of less than 150 KB, it is just the right tool to reduce energy consumption and incidentally to protect the hardware, runs on all Microsoft Windows operating systems!
Please
download AutoPowerOptionsOK
and launch it, for example, from the Windows 10 desktop. The software is suitable for all Windows operating systems, x64 and x32!
And use one or all of the following options in AutoPowerOptionsOK :
1. Time controlled (timer) automatic turn of the monitor!
2. Put the computer to sleep when you are not on the PC!
3. Automatically change the power options if no mouse, or keyboard events (inputs)!
(
... see Image-1
)
... how do i use the Auto Power Options OK under Windows
!
If the PC does not support energy-saving options, the message:
"This computer does not support power save features" 
appears
(Image-1) Auto Power Options Settings!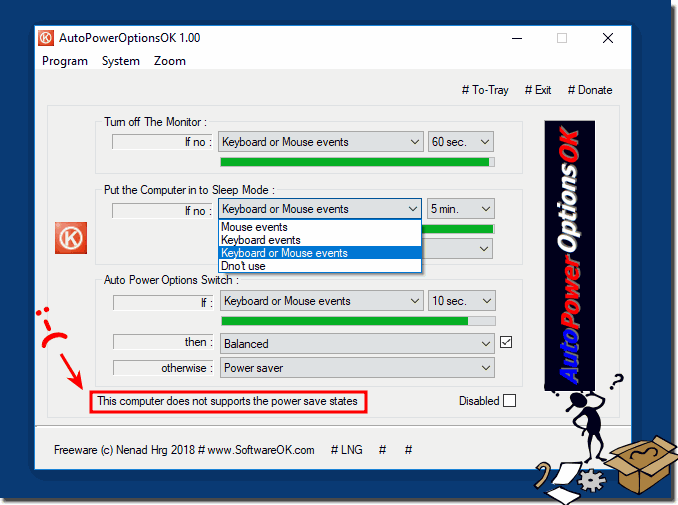 2.) Why is it important for the PC to go into sleep mode?
It is important, especially if you are not working on the Windows computer, that the hardware is spared and the computer is not unnecessarily burdened, also good as a data protection point, very convenient, because in this time the PC send no data or receive. It is increasingly important that smartphones and mobile devices are always on to create optimal user profiles and analyze user behavior.
You do not have to join in the whole thing , just try  ... AutoPowerOptionsOK.
Also, the environmental protection in many offices, much energy is wasted and the computers are running non-stop, this is not necessary. 
FAQ 1: Updated on: 20 June 2022 11:34