The solution What Does The Taskbar Hide Feature In Auto Hide Desktop Icons?!
The program can not only hide the desktop icons automatically, but also hide the Windows taskbar!
This very handy feature has also been created based on Windows user's request and can optionally be turned on and off in Auto Hide desktop icons, so if you do not want to use this feature, just ignore it.
Because by default this is not activated by default.
Because there are users who like to have the Windows taskbar always visible, to quickly access the programs, or can switch between programs.

Please always use ►►  ... the latest version of Auto Hide Desktop Icons for Windows !


The optional hiding function of the Windows taskbar in Auto-Hide-Desktop-Icons!


With this feature, you really have something of the desktop background (if you use one), but even if not, you can safely use this Task-Bar enabler function!

Hide Task-Bar in Auto Hide Desktop Icons on all MS OS!


(Image-1) Hide Task-bar in Auto Hide Desktop Icons on all MS OS!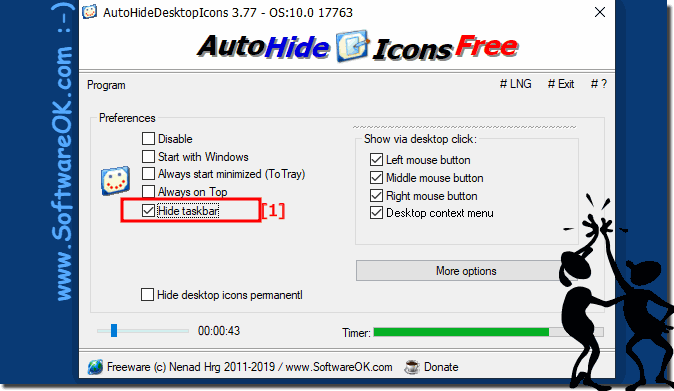 Info:
That
hide the taskbar
is very convenient not only under Windows 10 or 11 on Microsoft Surface Pro, who wants to hide the taskbar, has it really easy, for example, if you want to watch a private movie on your desktop PC, you can automatically disappear the taskbar Whether in the desktop or popular Windows 10 tablet mode, both are possible.
However, you can use this example, whether it's a Windows desktop, tablet, Surface Pro / Go, or even a server operating system.It has been tested on all and successfully
verified
.
FAQ 4: Updated on: 1 August 2021 10:22