The solution to set up
sharing a printer on Windows 11 and 10

, which is connected to your computer!

For example, if you have a printer connected to your computer and set up on your computer, you can share the printer with all family members so that it can be recognized by all users on the same network and used for printing. 

Info! This does not require setting up the home network group.

Content / Example / Tip:
1.) Share printer via network printer sharing!
Press the key combination Windows + R and use the command  shell:printersfolder, right-click on the printer to be shared and select "Sharing ..." 
And now just share and give printer name for the network printer share! (
... see Image-1 Point 1  to 4
)
(Image-1) Share and add to share printers under Windows!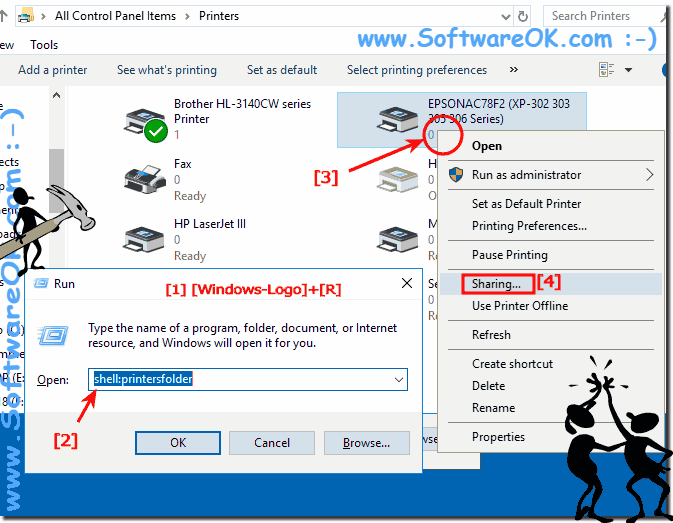 2.) What should I consider in the printer release!
You do not always have to be logged in as an administrator, it is sufficient if you have the necessary rights to share printers on the network that are connected to your computer, the example here is also for Windows 10, 8.1, 8, 7: Pro , Home, Enterprise, Basic, Premium, Professional, Starter, Ultimate, Windows Server 2016, 2012, 2008, because it is an old feature from / under Windows. 
Network printers can be made available on Windows directly on your network that has a Wi-Fi, Wi-Fi, or LAN connection, the rule is that they are on the same network.