In the printer management you can check, for example, whether the installed printer driver was correctly uninstalled under Windows!
These are so- called advanced printer settings under Windows , here in the printer management!

Similarly, Printer Management provides an overview of the print server, drivers, ports, and installed ms windows printers. But not only in the new Windows 11, 10, 8.1 ...   and all other Microsoft's Windows Server operating systems for example Server 2019, 2016,  2012 R2!


1.) Finding and starting the Windows printer management! 
Just run the 

printmanagement.msc

 command via the Run Windows + R dialog. 

Or open the " 

Control Panel

 " in Windows, in the Windows 11 or 10 Control Panel disappear more and more options! Then prefer 

% systemroot%\system32\printmanagement.msc


or


shell:common programs\Administrative Tools

(Image-3) Printer management, printer server, connections on Windows 10!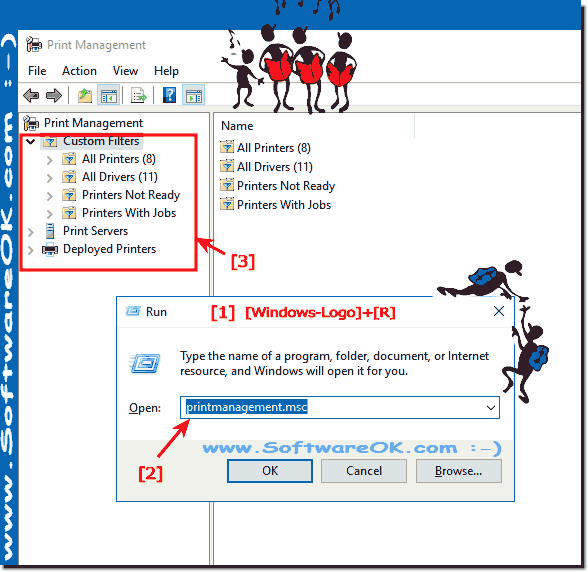 Print Management

Custom Filters:  All Printers: All Drivers: Printers Not Ready: Printers With Jobs: Print Servers
Dell1i3 (local):  Drivers Forms Ports Printers Deployed Printers

2.) Options in the printer management of Windows 11, 10, ...! 
In Printer Management, you can see all the printers and eventually remove any non-removed printer drivers.  
(
... see Image-2 Point 1 to 3
)
See also: ►► 
set default printer
 ►► 
Printer folder as a shortcut on the desktop


(Image-2) Printer management remove driver Package from Windows 10!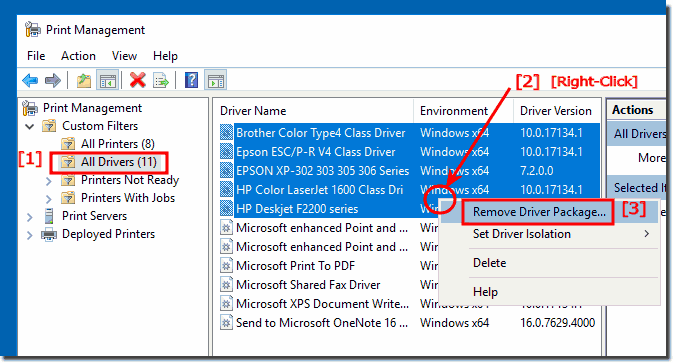 3.) What should I consider in the printer management?
On Windows 11, 10, ... computers and Windows Server 2019,2012,... you can manage print management through the in-house Microsoft Management Console using the MMC snap-in. 
For example, share printers on a network and centralize print server and network printer management tasks. If you prefer, you can monitor the print queues and receive notifications when print jobs are no longer processed in print queues. Print services also allow you to migrate print servers and deploy printer connections using Group Policy. 
(Image-1) Printer server, driver, Query, Jobs on Windows!