It is easy to deactivate the Google Chrome auto update on Windows 11/10, but not possible with the portable version!
If you really need to turn off the automatic Chrome updates in Windows 10 / 11, you can try all the options mentioned on the Internet.
Disabling all automatic Chrome updates will prevent software fixes and security patches from being applied to all Google software programs.
PS the latest version will still be downloaded, it is not wanted or planned to turn it off from Google!


Stop automatic Chrome updates via the system configuration in Windows 11 or 10!
1. Open the System Configuration window.
( Windows + R ) Command: msconfig

2. "Services" tab
(optional: activate the Hide all Microsoft services check box)

3. Scroll to Google Update Service.

4. Disable these two Google services.

5. Click the Apply button and then click OK.

(... see Image-1 Point 1 to 5)

PS: You will be asked to restart your computer for these changes to take effect.
Since Google Chrome renews the service again and again, you have to perform this action again and again to ensure that the Auto Update service has not been activated again.
This usually happens with every Chrome update and at unspecified intervals. 


(Image-1) Disable Google Chrome auto update on Windows 10!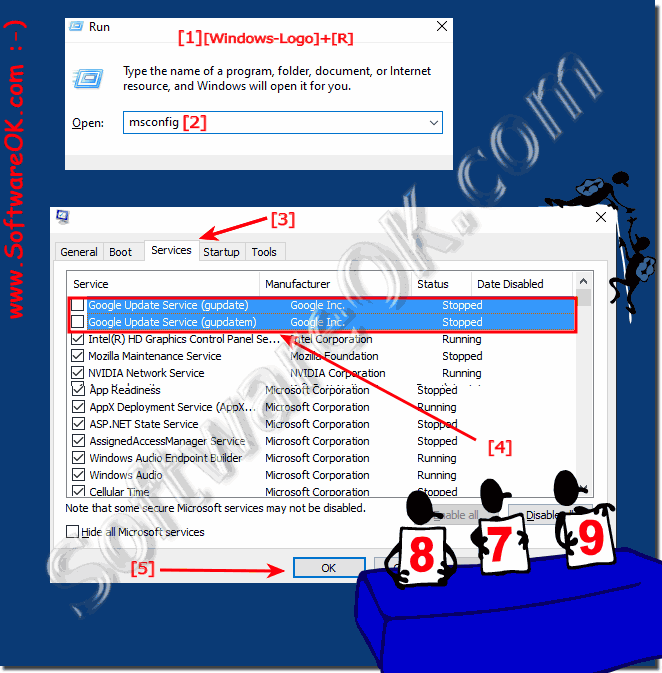 Info:
It may not be safe to use Chrome to surf online.
It is therefore strongly recommended to regularly update Google Update and other Microsoft software manually, if you deactivate the automatic Chrome updates, you may be able to test Firefox, Microsoft's Edge, Opera or one of 1000 other browsers!