With new tiles in the start or buttons on the desktop, you can shut down Windows quickly or restart it on all Microsoft OS 11, 10, ...!
Content:
1.) Create shortcut for shutdown / restart! 
1. Right click on the Windows 10/10 desktop
2. Select
New
,
shortcut
3a. for shutdown:   
%windir%\System32\shutdown.exe /s /t 0
3b. for quick log off:  
%windir%\System32 \ shutdown.exe /l /t 0 
3c. for the restart: 
 %windir%\System32\shutdown.exe /r /t 0
(
... see Image-1 Point 1 to 7
)
Or download
.... Restart_Shutdown_Logout_Sleep_Windows-10.zip
PS:  
All options are nicely summarized here as instructions, due to frequent requests regarding shortcuts, i.e. as an icon on the desktop,
desktop users who love tidiness 
particular are enthusiastic!
(Image-1) Shut down, restart, in the Start and on Windows Desktop!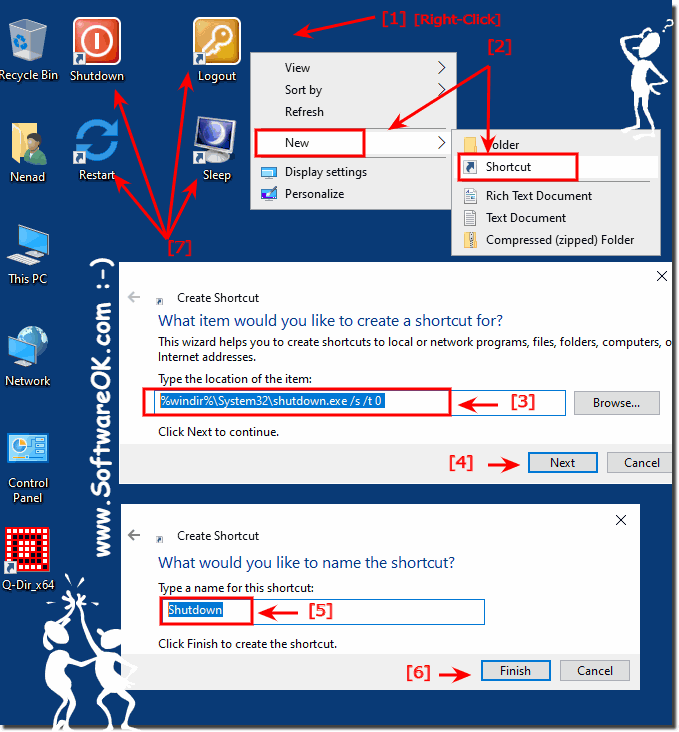 2.) Attach shutdown / restart to the Start tile on MS Surface or ... ! 
PS: With Windows 11 it looks different but works the same way!
Right-click on, for example, "Restart" and select the Pin to Start option 
Repeat the process for all the buttons you need in Windows!
3.) What should I watch out for when shutting down or restarting the Windows PC?
When shutting down the computer on Windows PCs, a lot of processes run. Those who value privacy activate a hidden setting, it is advisable to shut down the PC regularly with Windows, not only to save power, even when the computer is not doing any tasks must, or has a server role, it does not have to be switched on.