A simple example that serves as a solution to simply set a password via the cmd.exe, which never expires, not only for Windows Server!




Preface to password!

Many Windows users are annoyed because they always have to set a new password. Here you can find out how to configure a user account so that the annoying password never expires. This can be done via the Windows command prompt as well as local user accounts via the console!





Content:



1.) Set a password, which will never expire, via the command prompt!
Use the following steps to disable password expiration from the command line.
Please use the respective user for the username! ►  How do I list all users?




WMIC USERACCOUNT WHERE Name = 'username' SET PasswordExpires = FALSE

 


The query as to whether the password has expired:



 


So, via the CMD it is easy to set the password so that it never has to be changed!


2.) Via the local user and group manager!

The lusrmgr.msc  (Local Users and Group Managers) command is best.  

Start 

lusrmgr.msc

 via the

Windows Run dialog

[Windows Logo + R]. 

Select the User folder: 

Right-click on the user

account

to set a new

"Password never expires"

(Image-2) Password never expires, example on Windows 11!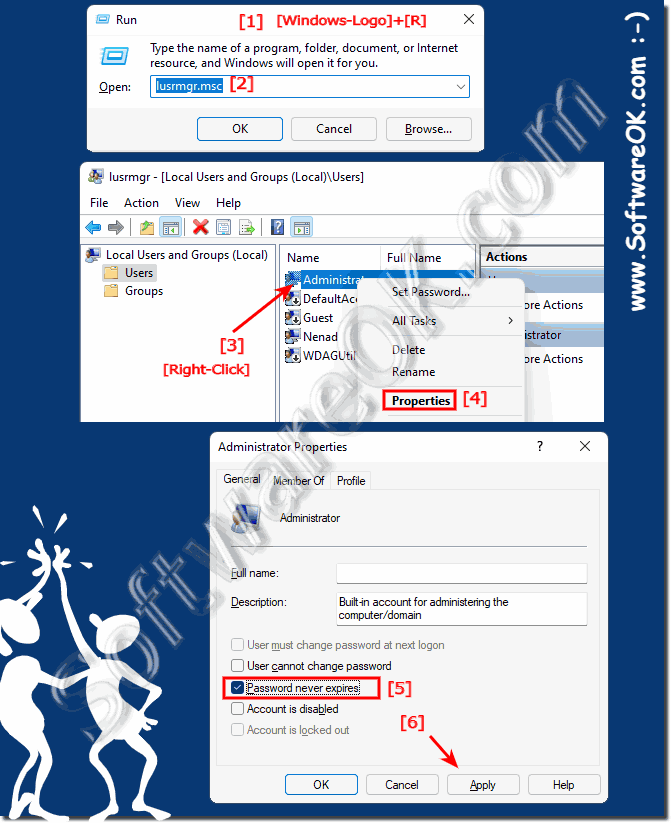 FAQ 53: Updated on: 26 August 2023 10:28