Customize Windows SmartScreen in Windows 8.1 and 10 plus Server 2012 / 2016!





The Windows SmartScreen helps to protect your PC and warning you if a downloaded file is known to be malware or has an unknown reputation. But this can make you confused and nervous!



 

1. Please start the Windows 8.1/8 Action Center via Command-Prompt [Windows-R]

2. Enter command wscui.cpl

3. Click on the Text "Change Windows SmartScreen settings" 

(... see Image-1 Arrow-1)  

The options in SmartScreen:
AGRESIV:


* Get administrator approval before running an unrecognized app from the Internet (recommended)!

BALANCED:

* Warn before running an unrecognized app, but don't require administrator approval

DISABLED:

* Don't do anything (turn off Windows SmartScreen)




Info: Some info is sent to Microsoft about files and apps you run on this PC.




(Image-1) Customize Windows 8.1 and 8 SmartScreen!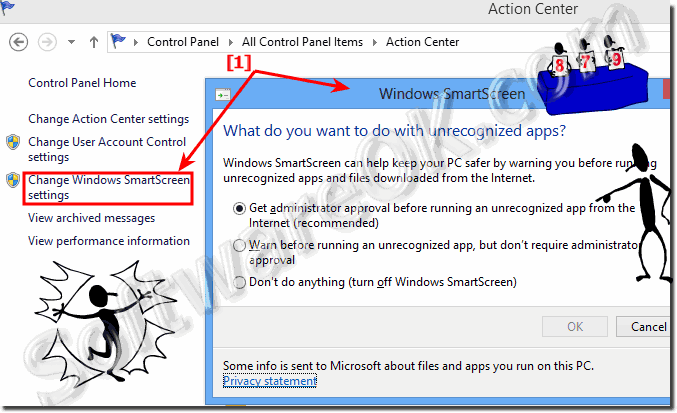 FAQ 141: Updated on: 18 June 2022 03:58