Many Windows users are big fans of
Microsoft Solitaire under Windows 11 and 10

, it also has a permanent place, the game is still popular!

The best thing is if you pin it directly to the Windows 11 Start menu and play it on the 2nd desktop as a precaution!


1.) Find and start solitaire on MS Windows 11 and Windows 10!
1. Open the Windows 11 search (Windows + Q keyboard shortcut)
2. Term
solitaire
3. Then simply attach Solitaire to the Windows 11 or 10 start 
(
... see Image-1 Point 1  to 3
)
With the Windows key + Tab you can open a second desktop on Windows and then quickly switch between the desktops using the
Windows + Tab key
! In the Microsoft Solitaire Collection is the classic Solitaire, Spider Solitaire, FreeCell, ....!
(Image-1) You can still play Microsoft Solitaire on Windows 11!
Solitaire is the classic among games and always good to have some fun in the Windows world!

2.) Solitaire and why is it so popular?
Solitaire has been a staple of digital gaming since the 1990s, when Microsoft introduced it to PCs to teach people how to use a mouse. From desktop computers to phones and tablets, solitaire has been a common game since Microsoft introduced it to PCs in 1990. It was originally integrated into Microsoft's operating system to teach users how to use and control a computer mouse in a fun way.
Now all these years later, the familiar deck of cards has become much more than just a way to learn computer skills and mouse movement. For many people it is an obsession. Playing solitaire seems to pay off. It is a fun activity for everyone to stimulate the spirit and there is never a dull moment with this pastime. There are many cards to sort and it is up to each one to win this quickly with smart moves. Mental abilities are enhanced as one actively uses the brain. Solitaire is a fantastic game that makes you want to play and you can use different tactics to use your brain to the maximum.
(Image-2) Play Microsoft Solitaire on Windows 11!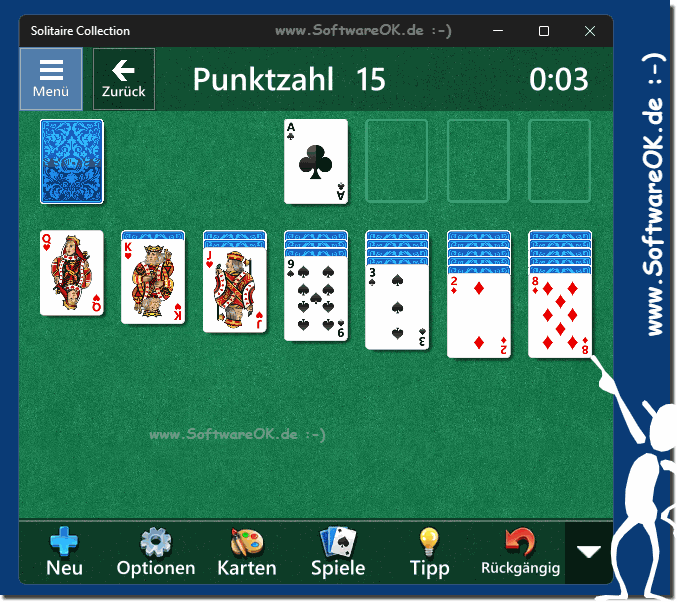 3.) ... play Solitaire XP on Windows 11 and Windows 10?


Many users play Microsoft Windows XP Solitaire for nostalgic reasons, for whatever reason. Solitaire is always fun, classic or new!

1. Simply download ►  ... English SolitaireXP.zip ► or ►  ... German SolitaerXP.zip  

2. Unzip it from the ►  Windows 11 download folder 

3. Both files please in the same folder cards.dll and sol.exe

4. And simply start via sol.exe

( ... see Image-3 point 1 to 4 ) 





(Image-3) Microsoft XP Solitaire still on Windows 11!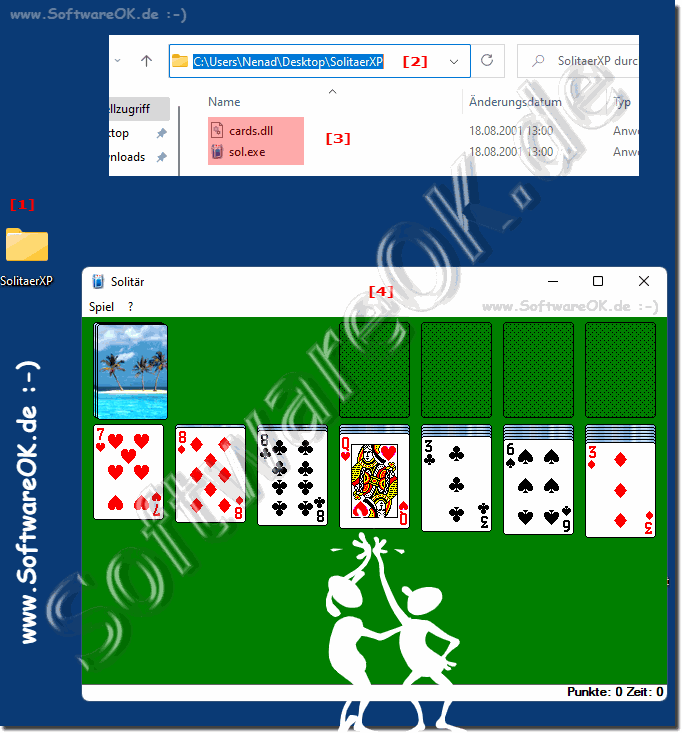 4.) Why play Classic Solitaire XP on Windows?
Classic Solitaire, also known as Klondike Solitaire, was one of the most popular card games on Windows operating systems, especially Windows XP, for many years. Classic Solitaire was pre-installed on Windows XP, meaning it was already available on the computer without the need to install it separately. This made it a convenient option for those looking for quick entertainment. Solitaire is easy to understand but still requires some strategic planning and thinking skills.

This made it a popular pastime for users of all ages.

Ability to entertain yourself without an internet connection that can be completed in a short time. It was a good way to take a quick break or pass the time while waiting for something. Microsoft offers Solitaire in an updated version in the Microsoft Store, and there are also numerous Solitaire apps for different platforms and devices.

FAQ 95: Updated on: 1 October 2023 09:07