The driver installation setting is also in the device installation settings under MS Windows 11!
1.) The device installation settings in the Windows 11 control panel!
1. Open the control panel on your Windows 11 PC

2. F3 and in the search field the text "driver"  + Enter key

2. Click on the entry "Change device installation settings " .

5. Activate the option:   "Yes"

6. Now only save changes 

(... see Image-1 Point 1 to 5)

Especially users who often print images on one page notice it fairly quickly if the printout is incorrect, what does not fit with the driver.



PS: The download does not work with the old printers on Windows 11 and 10! 






(Image-1) Change device installation settings under Windows 11!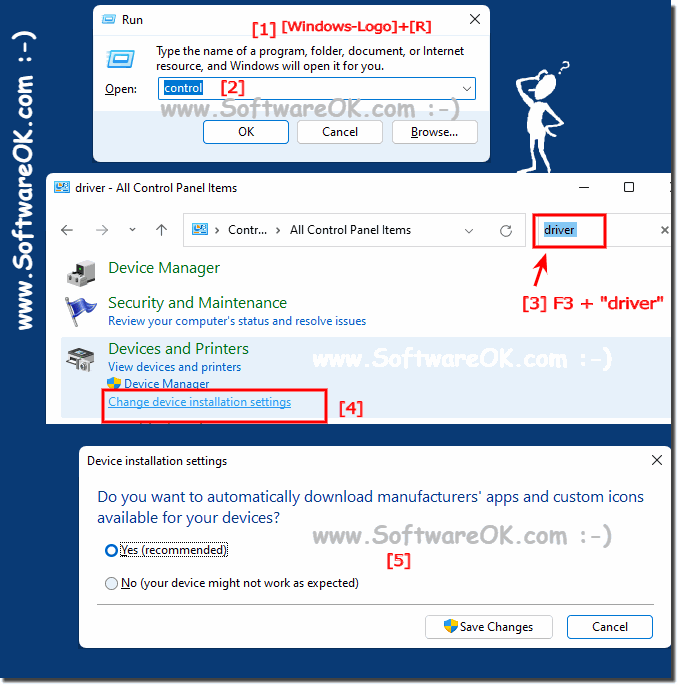 2.) The optional driver updates in the Windows setting!
1. Start the Windows 11 settings ( Windows + i )

2. Go to Windows Update  on the right-hand side to  scroll to  Advanced options

3. Scroll to the point Optional updates

4. Now click on driver updates and install if necessary 

(... see Image-2 Point 1 to 9) 




🛑  Attention! 

Windows 11 updates the drivers automatically, the optional drivers should only be installed if it is really necessary and it does not work with the current driver!






(Image-2) Find optional driver updates under Windows 11!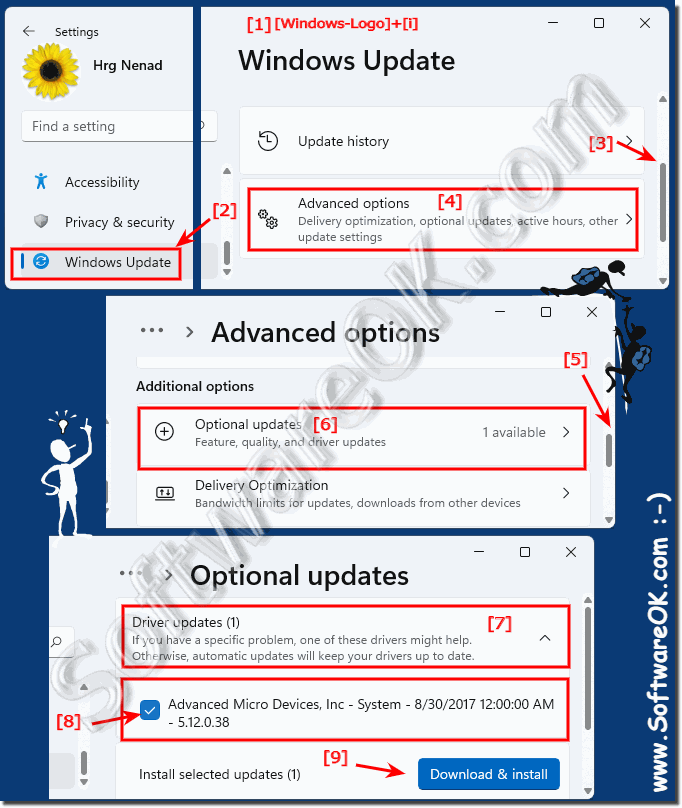 Please note that some devices or drivers may require additional configuration steps. However, in most cases, the steps above should be absolutely sufficient to customize device installation settings on Windows 11.




3.) ... Device installation settings in the registry editor!



1. ► Open the registry editor and navigate to the storage location:

HKEY_LOCAL_MACHINE\SOFTWARE\Microsoft\Windows\CurrentVersion\Device Metadata.

2- In the right pane, double click on DWORD:  PreventDeviceMetadataFromNetwork

3. Change its value data from 0 to 1. Click [OK].



(Image-3) Change device installation settings via Registry!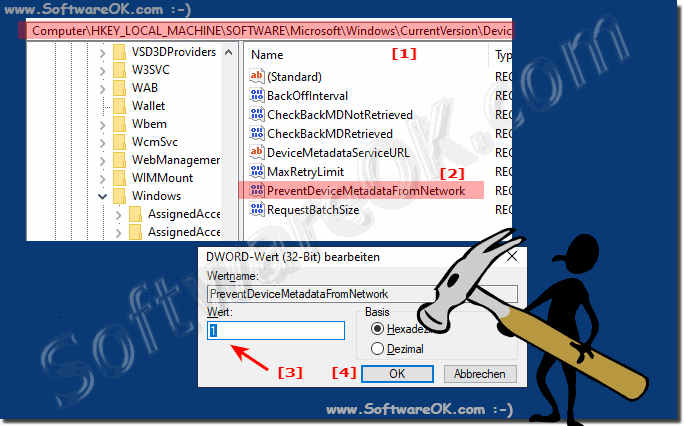 4.) ... More information about drivers, devices, ... on MS Windows!


We see it is quite easy on Windows through the device installation setting to influence the driver update behavior on Windows 11, 10, .. and others. Please note that the drivers are no longer up to date, but in some cases, it is necessary because overwriting the drivers will result in incorrect functioning. Here are some other helpful tips to understand or troubleshoot other driver issues you may have.




The steps to change device installation settings on Windows 11 may also vary. However, here you have learned the basic steps to set up device installation settings!



FAQ 26: Updated on: 16 September 2023 16:30