The data protection under MS Windows 11 OS can be adjusted, here is the quick solution to be able to quickly view, activate, deactivate, ... etc. at any time!


With the key shortcut Windows + i and on the right side in the settings window you get directly to the data protection 


content:




1.) Adjust the Windows 11 data protection quickly!
1. With the shortcut Windows + R and the command ms-settings:privacy
(You can also use this command to create a shortcut)

2. And only activate the things you absolutely need  

(... see Image-1)




(Image-1) Adjust Privacy and Security on Windows 11!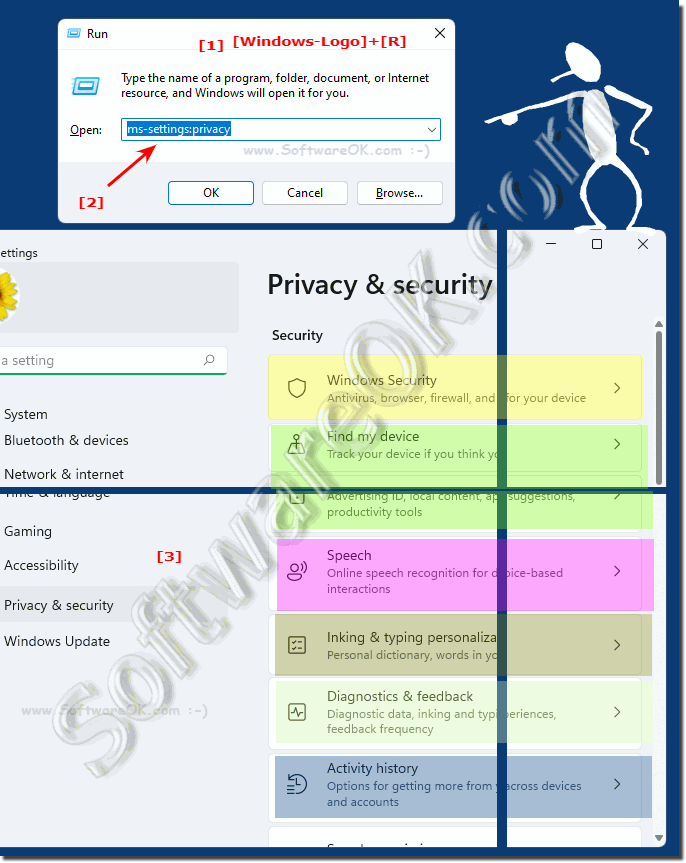 2.) Why data protection and privacy!
Privacy and data protection are two closely related issues. Data protection is a legal mechanism that ensures privacy. Privacy is usually defined as the right of every citizen to control their own personal information and to decide whether or not to disclose that private information. 


See also:







Data protection and privacy are important concepts in today's digital world for several reasons:

Protection of personal information: Data protection and privacy are intended to protect personal information and data from misuse, theft, or unauthorized access. This includes personal information such as names, dates of birth, addresses, financial information and health information.

Fraud and phishing protection:  Data protection helps protect users from fraud and phishing attacks by ensuring that personal information is not easily accessible.

Ethics and human rights: Data protection is also an ethical concern and a human right. People should have the right to decide how their personal data is used and to be informed about how their data is used.

Protection against surveillance and misuse: Data protection protects against surveillance and misuse of your activities and communications in the digital space. This may include government surveillance, unwanted corporate tracking, or other forms of surveillance.

Identity theft protection: When personal information falls into the wrong hands, identity theft can occur, where criminals exploit your identity to cause financial or legal harm.


Freedom and Freedom of Expression: Data protection and privacy are crucial to freedom of speech and expression. When people fear that their activities are being monitored, they may hesitate to express their thoughts and opinions openly.

Trust in digital services:  To gain and maintain public trust in digital services and online platforms, companies and organizations must ensure that their users' data is kept secure and confidential.

Prevent discrimination and prejudice: Data protection can help prevent the spread of discrimination and prejudice based on sensitive personal data by ensuring that this information is not used in improper ways.




Info:

In summary, data protection and privacy serve to protect people's individual freedoms and rights and to ensure that personal data is treated securely and confidentially. This is crucial to maintaining a fair and democratic society in which citizens' privacy is respected.







FAQ 206: Updated on: 30 September 2023 21:07