The Repair Disk app in Microsoft Windows 11 is very popular, you can also quickly open it, launch it and just follow the app's instructions!


These system recovery options can help you to repair your Windows 11 in an emergency when a serious system error occurs. Or when something goes wrong with Windows 11 update and Windows 11 reset doesn't work. 


 



Contents:



1.) Opening the System Repair Disk APP on Windows 11!
1. Windows + R keyboard shortcut and command control

3. Type F3 + "restore" + Enter key

4. Click "Backup and Restore"

5. And "Create system repair disk"

(... see Image-1 Point 1  to 5)



And just follow the APP instructions!

(Image-1) The System Repair Disc in Windows 11!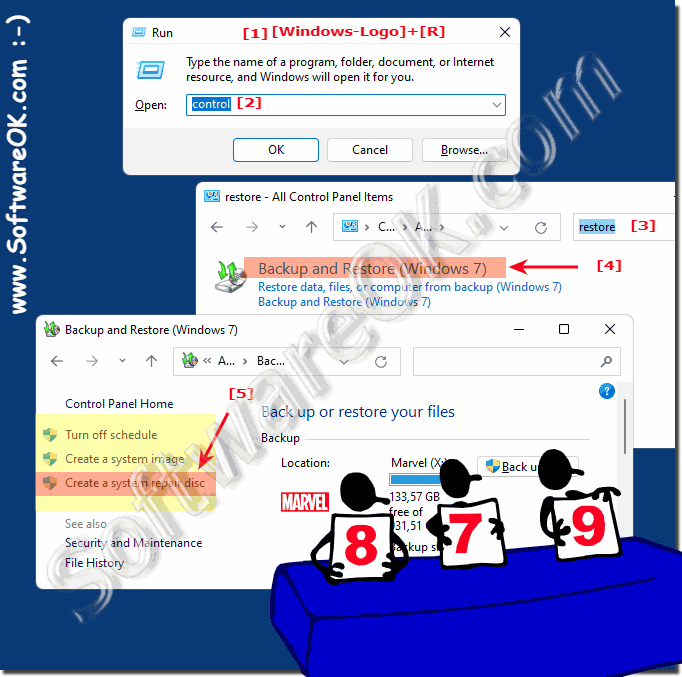 2.) Why the system repair disk for Windows 11?
There is no included Windows 11 installation DVD, so more importantly if you make these options available to you then you can use a Windows 11 system repair disc to access the system recovery options . It also includes Windows system recovery tools that you can use to recover Windows after a fatal error or restore your computer from a system image or restore point.


3.) More tips for problems with Windows 11!
FAQ 203: Updated on: 26 August 2023 07:15