Rolling back a Windows driver on Microsoft Windows 11, 10, ... Desktop and MS Server operating systems is very popular and also easy!




As a rule, the latest versions of drivers help to use the hardware performance optimally, or to take full advantage of new features and functions, or to fix existing driver errors. Sometimes, however, newly installed Windows drivers lead to incorrect behavior or to system crashes, especially

device drivers

 it can happen!



Contents:




1.) Roll back drivers in Windows 11, 10, ...!
3. In the Device Manager window, click on the
down arrow
next to the category
4. And then
right-click
on the device itself
5. In the properties dialog that is now open, on the
"Driver"
tab , click on the "
roll back driver"
button
(
... see Image-1 Point 1  to 6
) 
Please only use the previous driver if the device does not work properly after the driver update.
(Image-1) Easy possibility to roll back a MS Windows 11, 10, ... driver!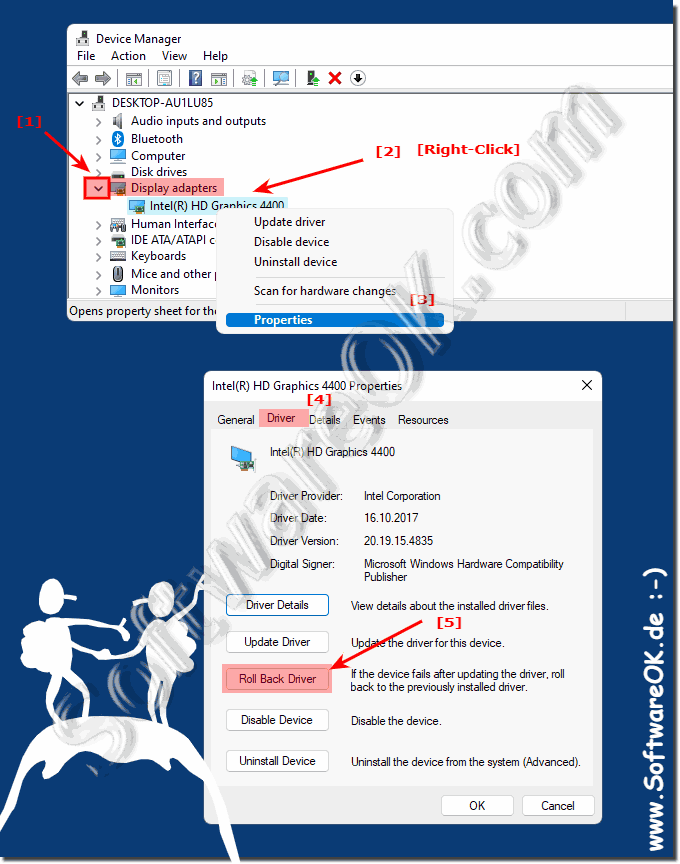 Follow the steps below to roll back a driver in Windows.



2.) What should I consider when resetting a driver on MS Windows OS!  
Resetting a driver should only be done when there is an important reason to revert to a previous version of a Windows driver. Normally one should also always ask the question: Is it because the new driver is installed and because of this the computer is not working properly?

If rolling back the driver does not successfully get Windows running correctly again, it is quite possible that other software and extensions were installed at the same time and are causing the MS Windows OS to behave incorrectly.


3.) More tips and links to Windows drivers and ... so!
FAQ 199: Updated on: 26 August 2023 08:03