To display the full path in the Explorer title bar in Windows 10 and 11, the solution is very simple and can also be implemented for Windows beginners!

Activating the display of the path in the title bar of the MS File Explorer is very advantageous in order to better recognize in the task bar and title bar what kind of folder it is, nevertheless it is a frequently asked question under all Windows 10/11 system configurations!


1.) Activate the path in the Explorer title bar!

1. Open the folder options on Windows, shortcut   Windows + R  command control folders 

2. Now simply click on the View tab

3. And switch / activate "Display the full path in title bar"

(... see Image-1 Point 1 to 6)

PS: Or start Microsoft File Explorer (Windows Logo + E), select View and open the folder options. In Windows 11 [...] options! Then select the View tab and activate the option "Show full path in title bar".




(Image-1) Show the full path in the explorer title bar on Windows 11 and 10!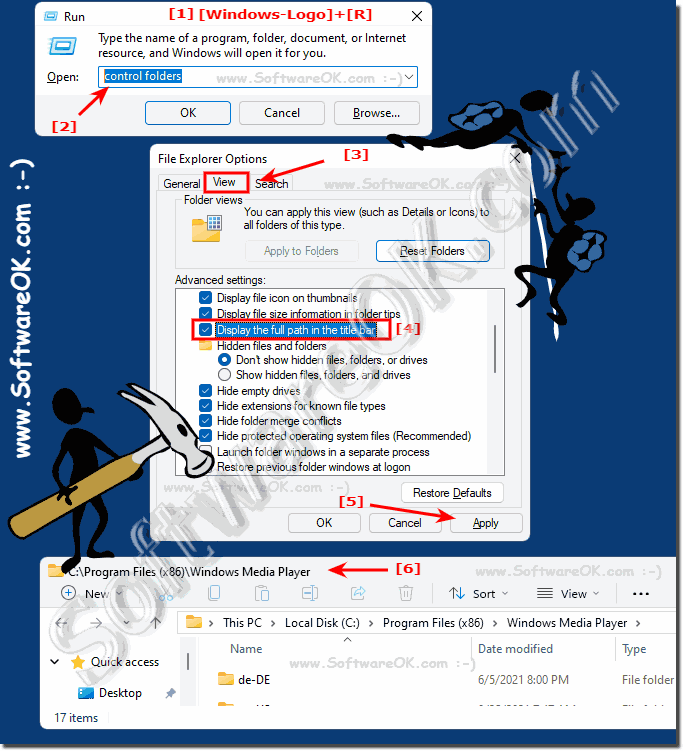 Info:

The full folder path in the title bar of Microsoft's File Explorer is a handy way to quickly find out which folder you are in. This explanation is for Windows 11, 10 , 8.1, 8, 7: Pro, Home, Enterprise, Basic, Premium, Professional, Starter, Ultimate, Windows-Server 2019, 2016, 2012 and can be implemented fairly quickly. You can easily use this easy and fast File Explorers solution on older versions of Microsoft's Windows operating systems, whether it's a Windows desktop, tablet, Surface Pro / Go, or even a server operating system.


2.) More tips to the Explorer on Win 10 / 11!

Tips that are directly related to MS-Explorer:

► ... Changing the Startup Directory in Windows 10 MS Explorer (My Computer, Computer)!
► ... auto expand folder in Windows-10 Explorer!
► ... the Folder in the directory tree of the Explorer!
► ... Reset the Internet Explorer settings!
► ... workstation on the desktop of Windows 10!
► ... find an App folder and delete the app!
► ... display file name extension in Windows-10!



If you have a lot of problems, you should consider switching to a full version of Windows 10. If necessary, a Windows 10 training is also a useful thing!

Or, optional use the ►

Q-Dir the Explorer Alternative

!




(Image-2) Show the full path in explorer caption bar in Windows-10!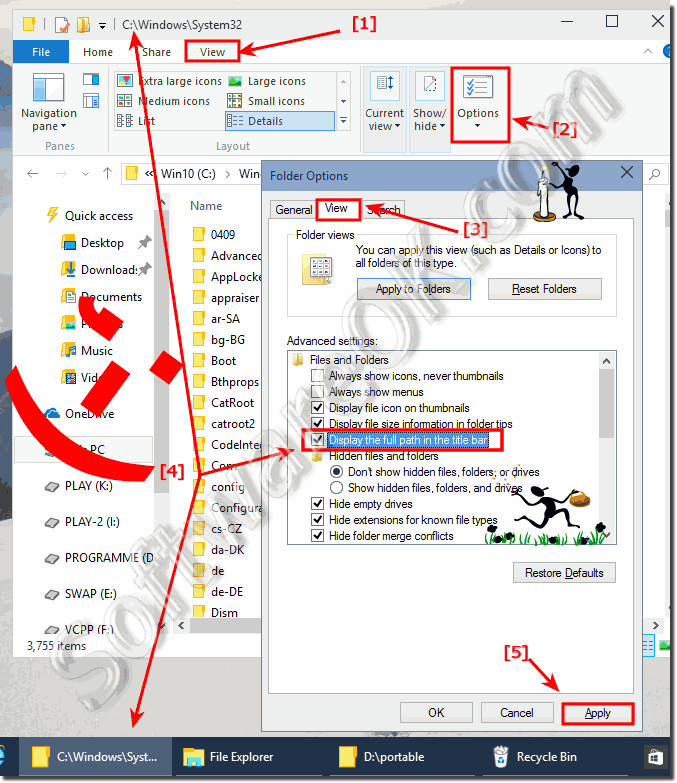 FAQ 40: Updated on: 25 August 2023 12:09