The solution is simple to hide the switch user at login screen on Windows-10?


Please Click the Windows 10 Start button, type gpedit.msc in the search box, and then press Enter.
Or via RUN-Dialog in windowst, Keyboard-Shortcut Windows-Logo+R and the gpedit.msc command!

- Select Computer Configuration, Administrative Templates, System.
- And click the Logon folder.
- Open the Properties of Hide entry points for Fast User Switching via Double-Click!
(... see Image-1 Arrow 1 and 2)
 
And enabled, and then click Button OK. (... see Image-1 Arrow-3)

This allows the Windows-10 System Administrator to hide the Switch User interface in the Logon UI, the Start menu and the Task Manager. 

Use gpupdate /force command to update the Policy or Logoff and Login in Windows-10!

See also: ► Disable the lock screen in Windows 10 ► How to find auto startup folder in Windows 10 



(Image-1) Hide the Switch User on Windows-10!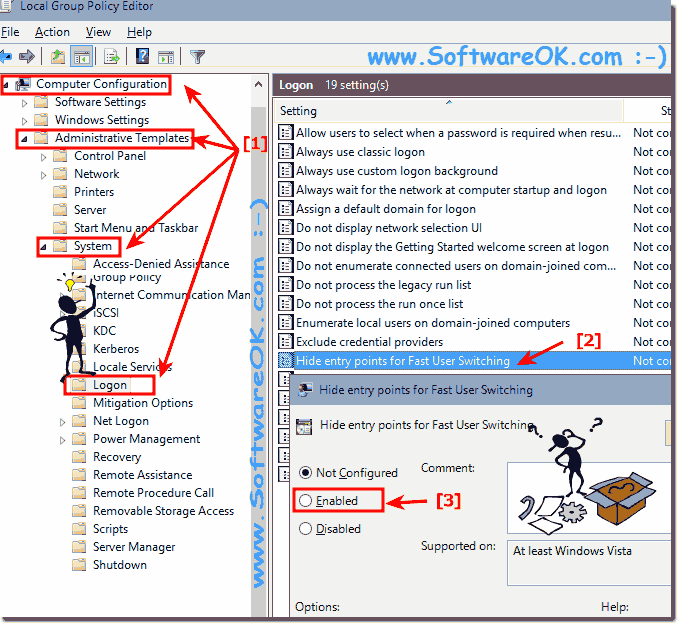 This Windows-10 policy setting allows you to hide the Switch User interface in the Logon UI, the Start menu and the Task Manager.

If you enable this policy setting in Windows-10, the Switch User interface is hidden from the user who is attempting to log on or is logged on to the computer that has this policy applied Windows-10.

The locations that Switch User interface appear are in the Logon UI, the Windows-10 Start menu and the Task Manager of Windows-10 .

If you disable or do not configure this policy setting, the Switch User interface is accessible to the user in the three locations.

See also: ► No Password at Hibernate ► set Windows 10 Password ◄

FAQ 25: Updated on: July 26th 2017 14:28