A frequently asked question is whether the idle state is better than the standby and where the difference is on the Windows 11, 10, ... PC!
The main difference between hibernation and standby!  

When Hibernate (idle), the RAM memory is stored on the hard disk, in standby not.

Standby

 puts your computer in sleep mode to use less power.

Hibernate

 saves your workspace (all open windows / programs / apps) and turns off the windows computer. 


So the difference is that hibernation saves more energy by completely turn off of the computer. However, it takes longer for the computer wake up from hibernation. The advantage is that, even in case of power failure (battery empty), or when the computer is disconnected from the power that the data is retained (the work progress is saved), this is not in case with standby mode!



Tip: Quick deactivation or activation of hibernation! 

 

 

Enabling  hibernation  in Windows: 

Use the command prompt:  powercfg -h on

 

Disabling  hibernation  in Windows: 

Use the command prompt: 

powercfg -h off  

(Image-1) Disable or Enable Hibernate on Windows 10!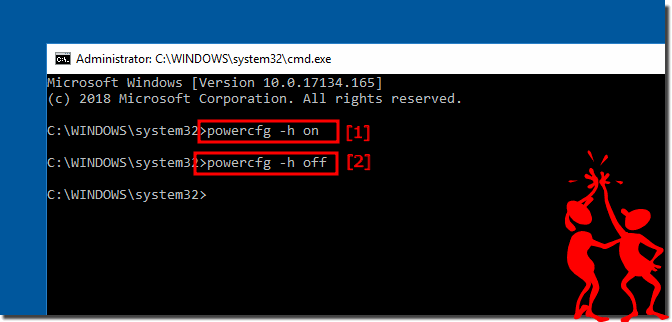 Standby is also known as sleep mode! 
In standby mode, the Windows 10 operating system disables unnecessary hardware resources such as hard disk, removable media, and monitor. The system can reactivate very quickly, for example, if you press any key on the keyboard, or if it is set in the BIOS, even if the mouse is moved, or a mouse button is pressed. 
If you stay away from your Windows 10-based computer for extended periods of time, you can turn it on. Hibernation is designed primarily for laptops, and the computer consumes less power than sleep mode because it saves your current settings to a temporary file on the computer hard drive.  
Why the hibernation on the Windows 10 computer! 
When you leave your Windows 10 computer, it's important to make sure it does not just stay on. You do not need to increase your utility bill unnecessarily. So if you want to get back to your computer soon, you probably do not want the PC to shut down completely. You then have to wait until it starts up again. Luckily you do not have to. For this reason, Windows 10 offers two options: Hibernate and Standby. 
FAQ 221: Updated on: 25 August 2023 14:09