In the series of all Windows systems from Microsoft for working under Windows 10/11 the paging file is clear for the iron emergency in the memory need!


In many textbooks, including written by experienced system administrators, programmers, the paging file in the presence of 8, 12 or 16 GB of memory are almost neglected in normal Windows 10 users, as this is used very rarely.

Up to 2048 MB of RAM can be allocated 2048 MB or managed by the system. From 4096 MB of RAM, you do not have to double it, just assign 2048 MB, or have it managed by the system. From 6 GB, the paging file is minimal in use and is best set depending on the running processes, so let the system manage!

To avoid the fragmentation of pagefile.sys!
If a fixed size and the paging file size limit are good, this should be done for example right after the Windows 10 installation, but SSD is not.

There are no fixed Optimum values, because each PC is configured differently, you can change the size of the paging file and even test a little. But if you have more than 6-8 gigabytes of memory and an SSD out of drive, you'll have trouble finding real differences.

The paging file is or is created as a file and is the Windows pagefile.sys, which is located at the root of the system partition, typically C:\, The size does not always correspond to the physical size of the RAM installed on the computer or laptop and the paging file is also referred to as virtual memory.

This system-reserved space is used to unload data that is not currently being used by the system or the applications to free up the missing megabytes of RAM needed to perform active tasks. That is, if there is a lack of RAM, unused data is unloaded from it and written to temporary memory in pagefile.sys. This slightly reduces the computer's performance, but you can compensate for the lack of RAM and continue the current session.






(Image-1) A correct an clean paging file on separate Partition!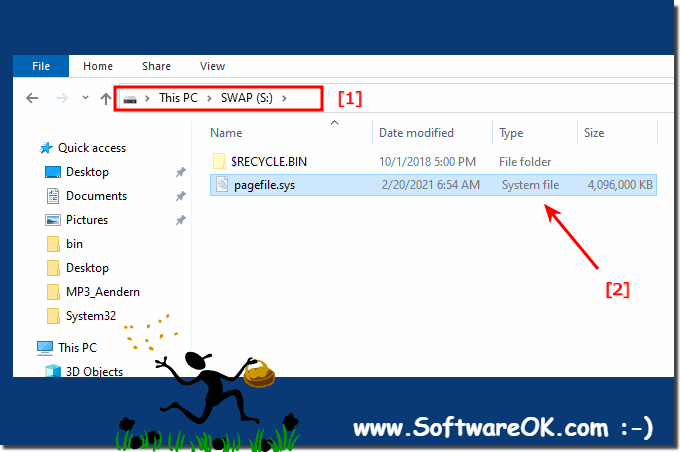 FAQ 210: Updated on: 25 August 2023 14:07