The solution to
Delete Auto Complete, Passwords and Form Data

in Windows-10, this Internet Explorer example is also for Windows 8.1 and Seven!


Please start the command

inetcpl.cpl

to open the Internet properties! These can be found in the Windows 10 Control Panel.


inetcpl.cpl

or %systemroot%\system32\control.exe /name Microsoft.InternetOptions

The fastest way to do this is through the Windows Run Dialogue Windows + R keyboard shortcut.

Now select the General Tab and the Dellete button! 

And delete the Data: Delete webpage history, Saved web passwords, Cookies, Temporary Internet files ....

(... see Image-1 Point 1 to 5)

See also:  How to find and open the Cookies folder in Windows 8.1/10?



(Image-1) IE Passwords and Form Data in Windows-10!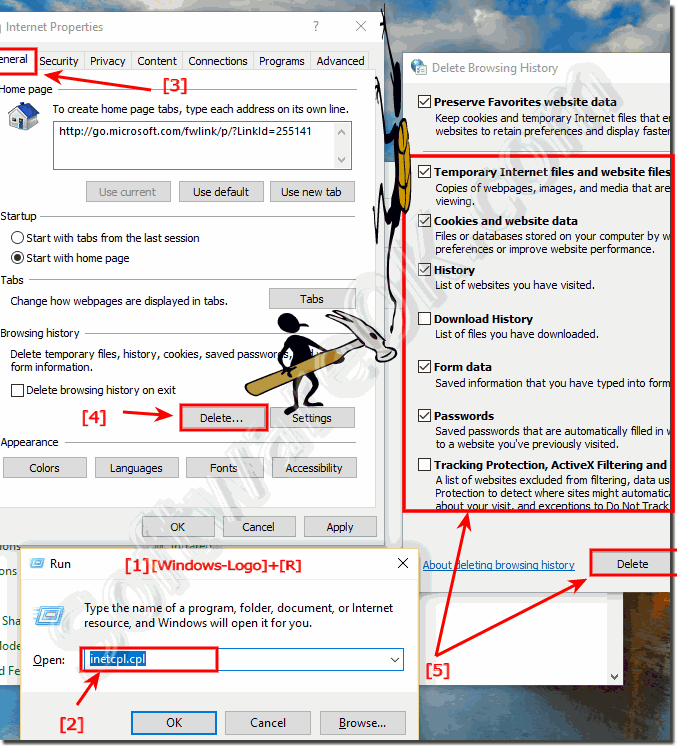 Useful Info from (c) Microsoft:

Delete webpage history 
As you browse the web, Internet Explorer stores information about the websites you visit, as well as information that websites frequently ask you to provide (such as your name and address). Internet Explorer stores the following types of information:

* Temporary Internet files
* Cookies
* A history of the websites you've visited

Information that you've entered into websites or the Address bar

* Saved web passwords

Usually, it's helpful to have this information stored on your computer—it can improve your web browsing speed and also save you from having to type the same information over and over. But you might want to delete that information if, for example, you're using a public computer and don't want any of your personal information to be left behind.

To delete all or some of your browsing history Click to open Internet Explorer.

Click the Safety button, and then click Delete Browsing History.

Select the check box next to each category of information you want to delete.

Select the Preserve Favorites website data check box if you do not want to delete the cookies and files associated with websites in your Favorites list.

Click Delete. (This could take awhile if you have a lot of files and history.)

Notes
You should close Internet Explorer when you're done to clear cookies that are still in memory from your current browsing session. This is especially important when using a public computer.

Deleting your browsing history does not delete your list of favorites or subscribed feeds.

You can use Internet Explorer's InPrivate Browsing feature to avoid leaving a history as you browse the web. For more information, see What is InPrivate Browsing?

You can delete all settings that have changed since Internet Explorer was first installed, including browsing history. For more information, see Reset Internet Explorer settings.





See also:
► How do I set sleep mode in windows 10?
► Windows 10 desktop icons are so big, why, how to change this?
► Help, no remote desktop connection to Windows 10 possible. why not?
► How to turn On and Off the Tablet Mode in Windows 10?
► How to change the desktop theme in Windows-10 (download)?
► How do i find out what type is my Drive, HDD or SSD in Windows 10?
► How long does it take to install windows 10 (download)?
► Run Windows 10 command prompt (cmd.exe) in administrator mode!
► Disable auto driver updates on Windows 10, how to?
► Unattractive aspect ratio when scanning with WinScan2PDF?

FAQ 184: Updated on: 8 May 2021 20:12