The Windows-10 Device Manager Desktop Shortcut allows fast access to Device Manager from the Desktop, for example, to see if all the drivers are installed and works correctly! 
1.) Create Desktop Shortcut for device manager!
Please start the MS-Explore from Window 10 Run Command (Windows+R)  and enter the  command:
explorer /select, %WINDIR%\System32\devmgmt.msc

This command will auto select the devmgmt.msc in

C:\Windows\System32\

 folder.

And now simply use Right Mouse Drag&Drop and rename the Desktop Shortcut for example:
to Device Manager on you Windows 10 Desktop. (... see Image-1 Arrow 1 to 3)

That is a fast and simple solution :-)

See also ► Remote Desktop Connection ► the Troubleshooting in Windows-10 ► search shortcut for Windows 10




(Image-1) Device Manager Desktop Shortcut for Windows-10!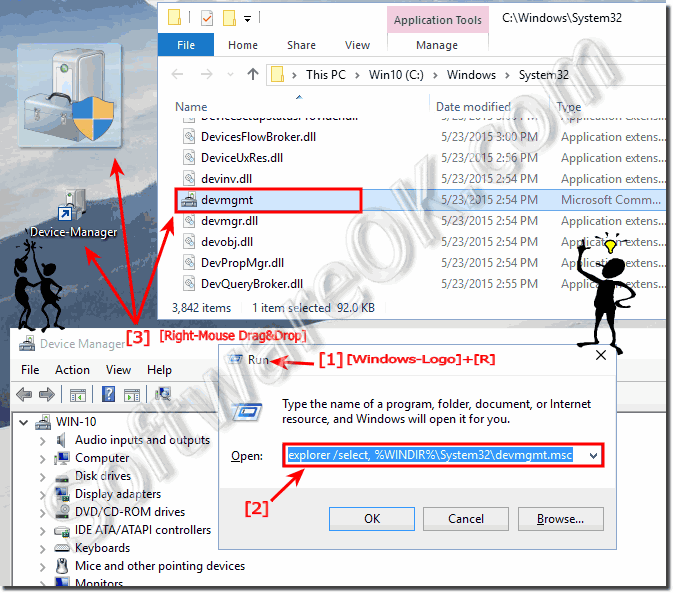 If your Windows-10 computer is having problems with a recently installed device or other hardware, try using the Hardware and Devices troubleshooter to fix the problem on Windows-10. It checks for common issues and makes sure that any new device or hardware attached to your Windows-10 computer was installed correctly.

In Windows 10 When you right-click a device icon in Devices and Printers, you can select from a list of tasks that vary depending on the capabilities of the device. For example, you might be able to see what's printing on a network printer, view files stored on a USB flash drive for Windows 10, or open a program from the device manufacturer. For mobile devices that support the new Device Stage feature in Windows 10, you can also open advanced, device-specific features in Windows from the right-click menu, such as the ability to sync with a mobile phone or change ringtones.



2.) Find and start the device manager from Control Panel!
Start the Control Panel in Windows-10 for example Windows-X menu and enter in search Box device.



(Image-2) Find Device Manager in Windows-10 Control Panel!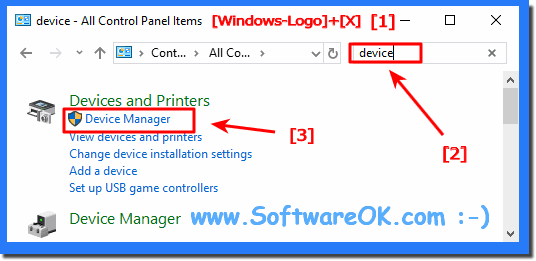 Info:


The example is a Device Manager solution ergo statement written not only for windows 10, at can you see in the example pictures for Device Manager created under Windows 10. You can use this example as a solution to find the Device Manager  easily and without hesitation also on older versions of Microsoft's Windows operating systems, use the Device Manager also independent of whether you have, domestic Windows desktop computer, mobile on tablet PC, Surface Pro / Go,or even as an administrator deploy in a server room at the MS server operating system 



FAQ 105: Updated on: 25 August 2023 12:26