According to user works Q-Dir stable and fine under Wine (emulator) or CrossOver Professional on Linux and Mac OS X.




 

Content:

1.) Q-Dir stable and flawless under Wine!


But Q-Dir the Quad File Explorer is not as fast as Windows 12, 11 and 10!

Wine is a compatibility layer that allows Windows applications to be used on other operating systems. If Q-Dir works smoothly on Wine, you can take advantage of this file manager application on your Linux or macOS system. If you have any further questions or concerns regarding Q-Dir and Wine, please feel free to contact me.




(Image-1) Q-Dir the Quad-Directory File Manager on Linux via Wine!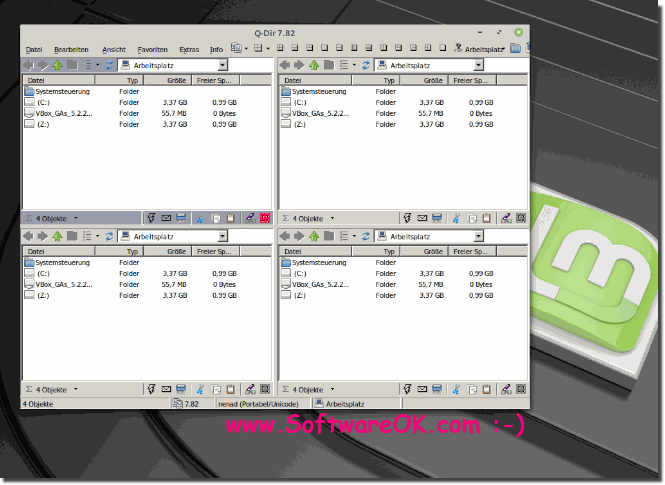 2.) Advantages and disadvantages if Windows programs work stably under Wine!


Running Windows programs in Wine on non-Windows operating systems such as Linux or macOS offers some advantages and disadvantages:

Advantages:

Expanded software selection:

By using Wine, users can access a wide range of Windows applications available to others Operating systems may not be available. This allows the functionality and application possibilities to be significantly expanded.

Cost Savings: You don't need to purchase additional licenses for Windows because Wine is open source software. This can result in significant cost savings.

Compatibility: Wine offers good compatibility for many Windows applications, especially older or less common programs.

Easy Integration: Wine programs can be seamlessly integrated into the host operating system, including integration with the file system and use of the desktop interface.

Disadvantages:

Not always stable: The stability of Windows programs under Wine can vary. Not all applications work smoothly and some may experience serious problems.

Performance penalty: Running Windows programs under Wine may result in performance degradation because the application layer requires additional resources.

Update Issues: Compatibility issues may occur with Windows application updates as Wine may not be immediately compatible with the latest software versions.

Missing features: Wine cannot fully support some Windows APIs and features, so certain applications that rely on these features may not function properly.

No support for DirectX 11 and later: Wine has limited support for DirectX 11 and later, meaning some modern Windows games will not run properly.




In summary, using Wine to run Windows programs on non-Windows operating systems can be a useful solution for accessing certain applications. However, you should be aware of the potential limitations and challenges, particularly in terms of stability and performance, if you choose to run Windows applications on Wine. It is recommended to use Wine for less critical applications and consider alternative solutions if you need reliable and optimal performance.







FAQ 55: Updated on: 9 November 2023 07:25