Quite simply it is in MS-Excel Euro or US $ sum to calculate, here a simple example!





Formulas and functions are the strongest tool in Excel. Even complicated calculations can be performed quickly with functions in Excel and easy to use this US $ sum to calculate example without hesitation and disadvantages also on other and older versions of Microsoft's Windows operating systems whether it's a Windows desktop, or to go to calculate US $ sum on tablet, Surface Pro / Go, or even on a ms server operating system.



 
Content:


1.) In Excel column formatting on currency € convert!
First set the column formatting to Currency € or US $ by right-clicking a column Click in the relevant column to be converted to Euro ( ... see Figure-1 Point 1 )

In the dialog just select € ( ... see Figure-2 )



(Image-1) Convert Excel column to Euro or US Dollar!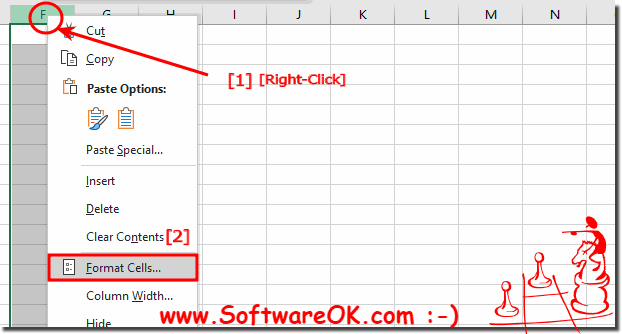 2.) Column formatting in Excel to Euro €!
Of course, you can change not only the column formatting in Excel to Euro or American US $, but also any other currency. There are not only currency formats available, here you really have all the text formats that you can imagine in Office Excel,  




(Image-3) MS-Excel and American US Dollar Currency!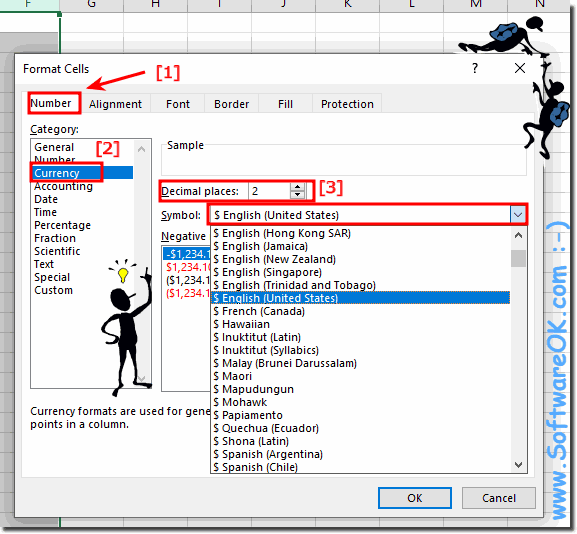 (Image-2b) MS-Excel Euro Currency!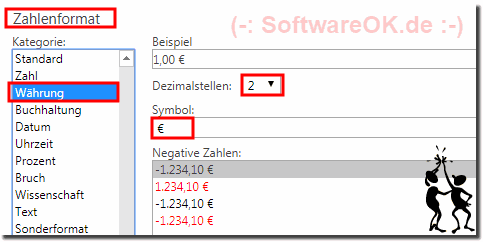 3.) Quickly add in Excel the values!
So now you can add the values ​​to Excel quickly.
Whatever.

Select the field below the fields to be added, now only add!
In MS-Excel you will find the Start tab
,
 just click on AutoSum.
( ... see picture-3 )


(Image-4) MS-Excel Euro Auto Sum calculate sum in US Dollar!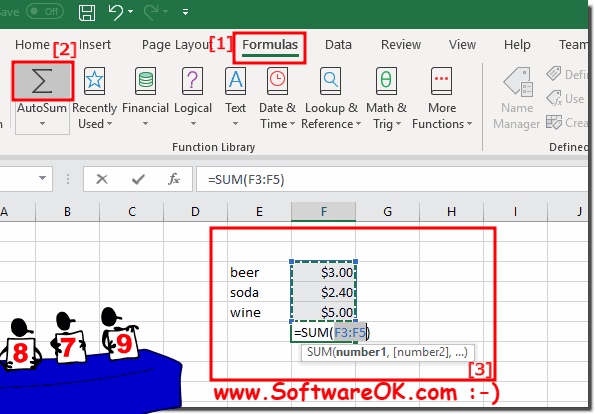 Info:
Microsoft Excel provides comprehensive support for entering the Euro sign and for working with Euro values ​​on Microsoft Windows 10, Windows 7, Windows 8.1 and other Windows NT systems, or higher. 

The nice thing is, Excel recognizes the euro sign as currency, even if it has
not been selected as a currency symbol
in the Microsoft Windows Control Panel in the Regional Settings.
The spreadsheet 
MS Excel 2016
offers more than 400 functions - from simple arithmetic tasks such as an addition (SUM function) to complex evaluations of the data in which values ​​are compared (function INDEX). Microsoft presents all existing functions 
on this MS website
 . This also makes dealing with complex data sets easy - but only if you know how formulas and functions in 
Excel
 basically work.

FAQ 4: Updated on: 11 May 2021 14:16